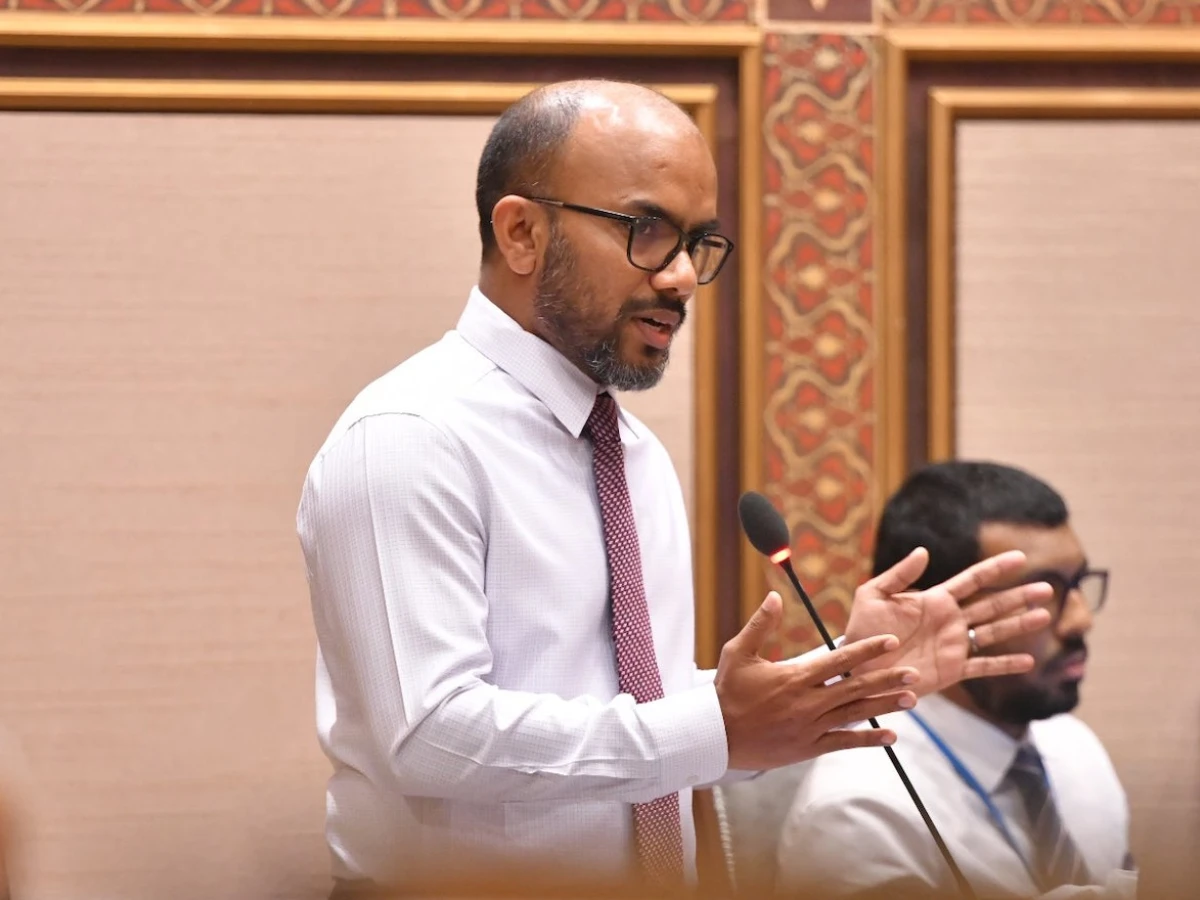 Finance Minister Ibrahim Ameer speaks at the Parliament.
Ameer hails tax bill green-light as vital for fiscal sustainability
The bill was passed after protests erupted in parliament and had snowballed into a major issue.
Finance minister Ibrahim Ameer said on Wednesday that the parliament passing the tax increase bill as proposed by the government will ensure financial stability.
What the government has proposed is that from January 2023 onwards:
GST to be hiked from 6% to 8%

T-GST to be hiked from 12% to 16%

The government's proposal to raise the taxes to increase the government's revenues was passed by 55 out of 81 lawmakers who voted in favour at the Wednesday parliament session.
In a tweet after the passage of the bill, the minister said it was a "strength to ensure financial stability and speed up the government's efforts to meet the aspirations of the people".
Government has set an example to the world by overcoming the economic crisis of the last few years

Despite the challenges faced, several infrastructure and social development projects have been carried out across the country with equality.

The vote on the tax hike bill finally came two days after the committee's report had been scheduled. The bill was passed after protests erupted in parliament and the issue snowballed into a major issue. Thus:
On Monday, Vilufushi MP Hassan Afeef, who was in the chair at the time, concluded the session by saying that there was no quorum for voting

Pro-government lawmakers staged protests on both Monday and Tuesday against the illegal conclusion of the session as the voting had not been done


As the issue heated up, the parliament informed MPs that the bill would be put to vote on Tuesday


However, Speaker Mohamed Nasheed concluded Tuesday's session by not voting on the bill; so the pro-government lawmakers held an emergency meeting with President Ibrahim Mohamed Solih in Muleeage presidential residence and lodged a complaint about Nasheed's operation of the parliament


These lawmakers believe that the nasheed-led faction of MDP MPs is delaying the vote on the bill, as even during the debate, Nasheed's supporters had opposed the bill


MDP's parliamentary group leader Mohamed Aslam said on Tuesday that President Solih wished to pass the tax increase bill as soon as possible while rendering due respect to Nasheed as well