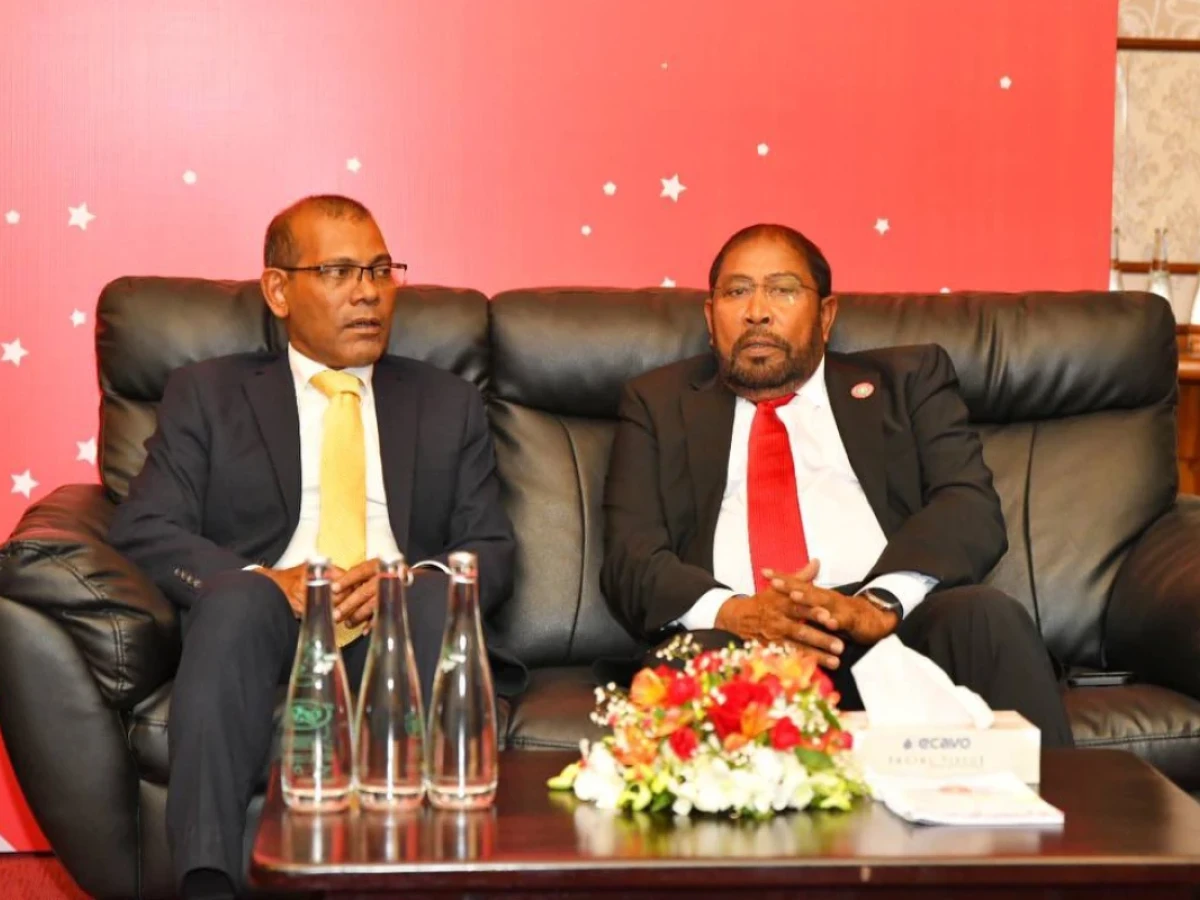 Jumhooree Party (JP) leader Gasim Ibrahim and MDP President Mohamed Nasheed at the closing ceremony of the National Conference of Jumhooree Party. Photo/Majlis
Nasheed says ready to get shackled in pillory for Gasim's sake
"Honorable Gasim. We live in the same country. No one from JP can be sacked without going through us first," Nasheed wrote.
By Mohamed Muzayyin Nazim
MDP President Mohamed Nasheed said on Thursday that he is ready to get shackled in a pillory for the sake of Jumhooree Party (JP) leader Gasim Ibrahim.
Nasheed, who is also the speaker of the parliament and is working closely with Gasim, made the remarks in a message to the parliament's WhatsApp group on Thursday.
The Jumhooree Party, which is part of the ruling coalition, on Tuesday decided not to form an alliance with President Ibrahim Mohamed Solih for the upcoming election and field its own candidate.
Following the decision, which will benefit Nasheed as well, pro-government lawmakers have been demanding that JP members in political positions be removed from their posts or resign on their own.
Makunudhoo MP Mohamed Rai said in Wednesday's parliament session that if JP members do not resign from their posts, they will be sacked from their posts "like a flock of sheep"
An MP shared a news article on Rai's remarks in the WhatsApp group of parliament and tagged Gasim
"We are here to watch JP members being slaughtered from government posts like sheep, we are watching helplessly," Gasim wrote in response to the message in the group, requesting that none of the JP members resign from their posts.
"Honorable Gasim. We live in the same country. No one from JP can be sacked without going through us first," he wrote.
Following this, Nasheed issued an indirect warning to the government.
"Does the government want us out on the streets? I'm familiar with tear gas, isolation cells and pillory very well. I can still spend some time there," said Nasheed, who unsuccessfully contested against President Solih in MDP's presidential primary in January.
Nasheed had on Wednesday spoken in defence of Gasim as well, as the Maamigili MP was under pressure to remove JP members from political posts.
Gasim also raised the issue in parliament on Wedneday.
"If those in JP slots are dismissed or have to leave, then president Solih will also have to step down," he said during the sitting.
While Nasheed has been defending Gasim lately, the coalition he had made with the Jumhooree Party to come to power in 2008 broke apart quickly. With this, Gasim, who was the home minister in Nasheed's government, left and started working against Nasheed.