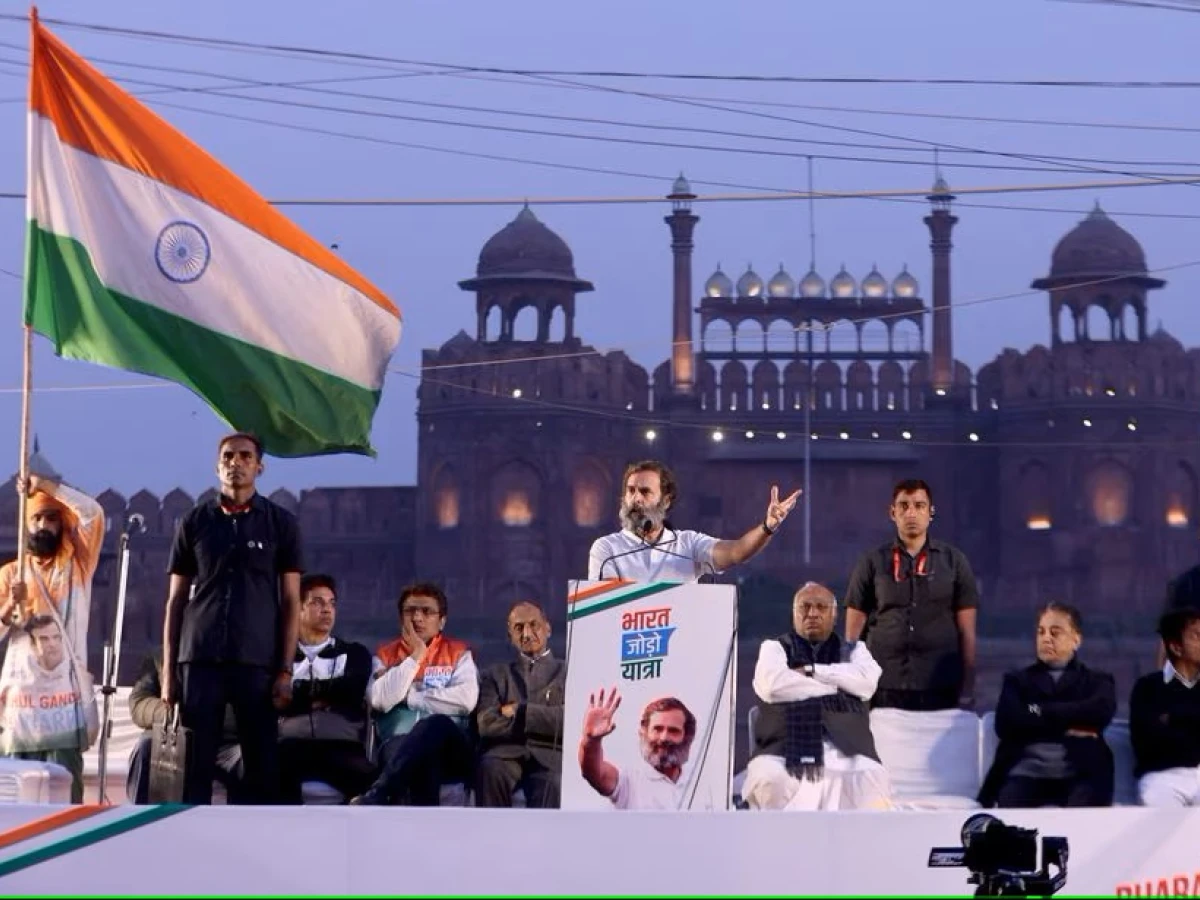 India's main opposition, Indian National Congress party leader Rahul Gandhi addresses the crowd at the Red Fort during the ongoing Bharat Jodo Yatra (Unite India March) in the old quarters of Delhi, India, December 24, 2022. REUTERS/Anushree Fadnavis/File
Who is Rahul Gandhi, the convicted 'prince' of Indian politics?
His conviction and two-year jail sentence in a defamation case, and consequent dismissal from parliament on Friday, could galvanize his party.
NEW DELHI, March 24 (Reuters) - Indian opposition leader Rahul Gandhi has never been a minister in a federal or state government, has not led his Congress party to a general election victory, and quit as party chief after it was demolished in the last parliamentary polls in 2019.
Yet he remains at the centre of India's opposition politics and the main target of Prime Minister Narendra Modi's Hindu- nationalist Bharatiya Janata Party (BJP).
Now, his conviction and two-year jail sentence in a defamation case, and consequent dismissal from parliament on Friday, could galvanize his party and its allies to step up their opposition to the BJP government a year before the next general election is due.
The conviction on Thursday came barely two months after Gandhi, 52, concluded a 4,000-km cross-country march from India's southern tip to Kashmir in the Himalayas in a bid to revive his party and refurbish his image in what he called a Bharat Jodo Yatra, or unify India march.
Gandhi's jail sentence has been suspended for 30 days allowing him to appeal to a higher court but he will also not be able to contest the next general election unless he gets his conviction suspended or overturned.
At the heart of his central role in opposition politics is the fact that his party has ruled India for 54 of its 75 years since independence from Britain, and his father, grandmother and great-grandfather were prime ministers for more than 37 of those 54 years.
Congress was the largest national political party with a footprint across the country of 1.4 billion people until it was overtaken by the BJP in 2014.
Although now a shadow of its former self, the Gandhi family - which includes Rahul's Italian-born mother and former party chief Sonia, and his sister Priyanka - still dominates Congress and commands fierce loyalty.
It is this potent lineage and legacy that Modi and his party seek to attack when they say dynastic politics has no role in a democracy, analysts say. Modi often refers to Rahul as a prince in his speeches.
Even though Congress withered in 2019, winning less than 10% of the 545 seats in the lower house, it commanded nearly 20% of the vote - the largest for any opposition group - against the BJP's 38%.
Congress is the ruling party, or the main opposition in about half a dozen important states.
NON-SERIOUS POLITICIAN?
Gandhi entered politics and was first elected to parliament in 2004 from his family borough of Amethi in the northern heartland state of Uttar Pradesh.
He repeated that victory in 2009 and 2014 but suffered a shock setback in 2019 when he lost the seat. However, he had also contested a seat in the Kerala state and won there to return to parliament.
Gandhi's attendance in parliament has been far below the average. His frequent absences from the chamber, and the country, have been the focus of the media and drawn BJP accusations that he is a "non-serious" politician.
Outside parliament, he has often reminded his supporters of his family's commitment and sacrifices, talking about the assassinations of his grandmother, then Prime Minister Indira Gandhi, and his former prime minister father, Rajiv Gandhi.
Of late, he has been stirring controversy with criticism of the BJP.
In Britain last month he said in a speech that democracy was in danger under Modi, angering the BJP whose members demanded an apology or said he should face exclusion from the chamber.
On Thursday, after his conviction, he simply posted on Twitter some words in Hindi from freedom movement leader, Mahatma Gandhi, who is not a relation.
"My religion is based on truth and non-violence. Truth is my God, non-violence the means to get it. - Mahatma Gandhi".
Single at 52, Gandhi is known to be a fitness and martial arts enthusiast and has been seen cycling in New Delhi accompanied by security men.
His conviction and disqualification from parliament is now "make or break" for him, said Neelanjan Sircar, a senior visiting fellow at New Delhi's Centre for Policy Research.
"Will he be able to make the argument that 'I am being targeted by a government that does not necessarily represent the interest of all Indians', or is he going to be seen as somebody who is not a capable politician and therefore has been outplayed by the BJP," Sircar told Reuters.