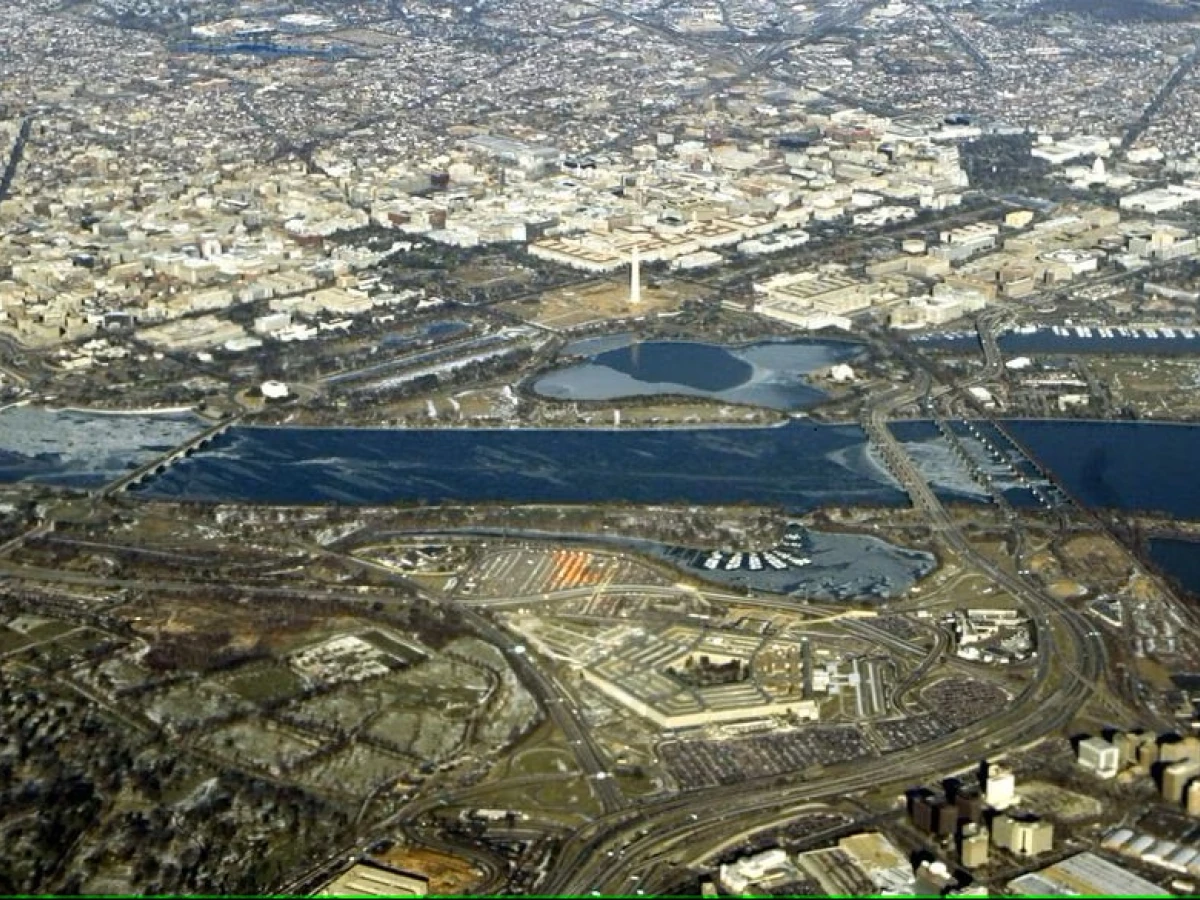 An aerial view of Washington D.C., January 28, 2005, features the major landmarks of the U.S. capital. At bottom center is the Pentagon in Arlington, Virginia, cutting through the middle is the Potomac River, at center is the Washington Monument and towar
Jet fighters chase small plane in Washington area before it crashes in Virginia
At least one military pilot saw that the Cessna pilot had passed out, ABC reported.
WASHINGTON, June 4 (Reuters) - U.S. officials scrambled jet fighters in a supersonic chase of a light aircraft that violated airspace in the Washington D.C. area and later crashed into mountainous terrain in southwest Virginia, officials said.
The jet fighters prompted a sonic boom over the U.S. capital, causing consternation among people in Washington area, in an attempt to catch up with the errant Cessna Citation, officials said.
A Cessna aircraft crashed into mountainous terrain in southwest Virginia around the time the sonic boom was heard in the capital, the Federal Aviation Administration said. A Cessna Citation can carry seven to 12 passengers.
A U.S. official said the jet fighters did not cause the crash.
A separate source familiar with the matter said the Cessna was believed to be on autopilot and did not respond to authorities.
The Cessna took off from Elizabethton Municipal Airport in Elizabethton, Tennessee, and was bound for Long Island MacArthur Airport in New York, about 50 miles (80 km) east of Manhattan, the FAA said in a statement, adding that it and the National Transportation Safety Board would investigate.
The crash occurred around 3:30 p.m. EDT (1930 GMT), the FAA said.
According to the flight-tracking website Flight Aware, the plane appeared to reach the New York area and made nearly a 180-degree turn, with the flight ending in Virginia.
Air National Guard F-16s were deployed from Joint Base Andrews, ABC News reported, citing an unnamed U.S. official. At least one military pilot saw that the Cessna pilot had passed out, ABC reported.
While rare, incidents involving unresponsive pilots are not unprecedented. Golfer Payne Stewart died in 1999 along with four others after the aircraft he was in streaked across thousands of miles with the pilot and passengers unresponsive. The plane eventually crashed in South Dakota with no survivors.
In the case of Stewart's flight, the plane lost pressure, causing the occupants to lose consciousness because of oxygen deprivation.
Similarly, a small U.S. private plane with an unresponsive pilot crashed off the east coast of Jamaica in 2014 after veering far off its course toward southwest Florida and triggering a U.S. security alert that prompted a fighter jet escort.