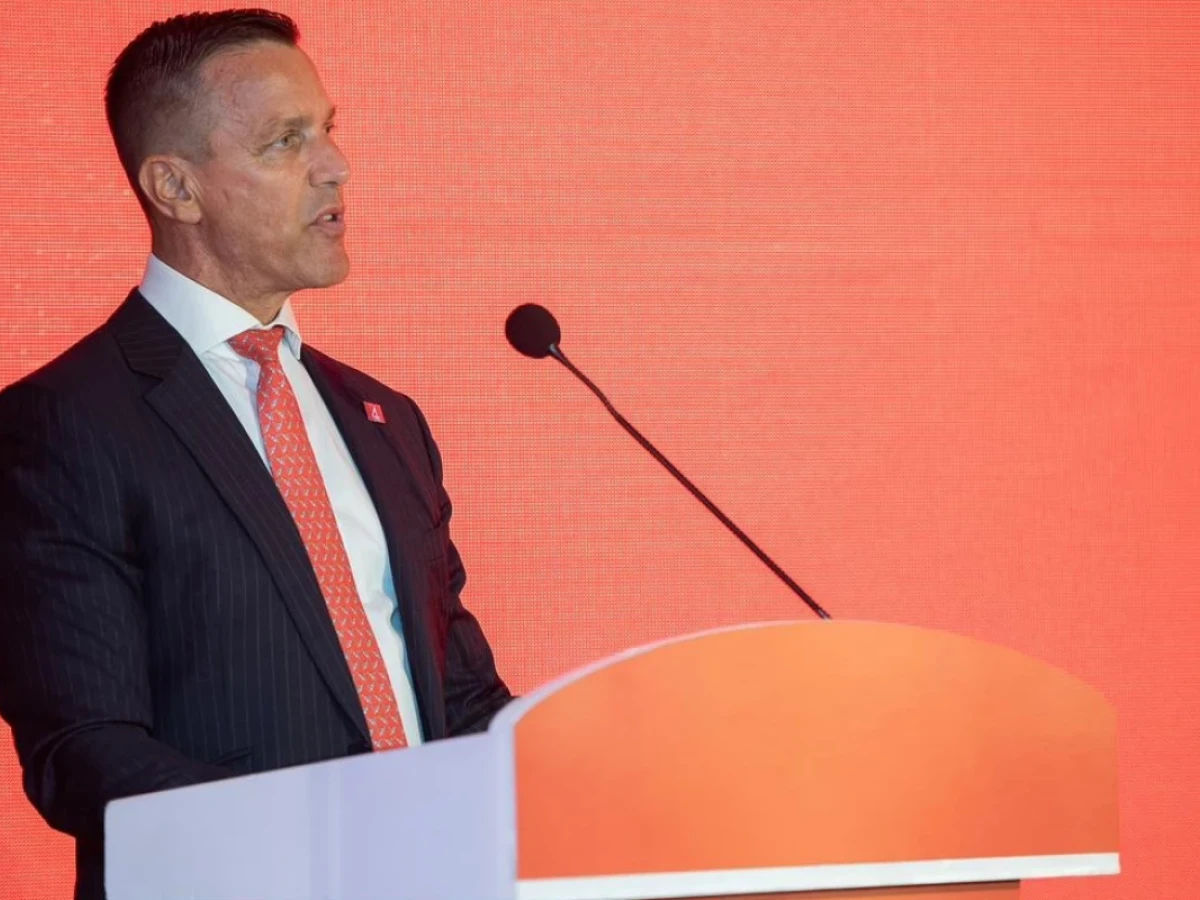 BML CEO Karl Stumke speaks at the annual general meeting on Monday. (Photo/BML)
BML to power all ATMs with solar
Karl spoke on the importance of a committed and engaged ESG journey as part of the Bank's strategy on Sustainability.
Bank of Maldives (BML) will install 56 new ATMs this year and will ensure that all of its ATMs are operated through solar power, the bank's chief executive announced Monday.
Speaking at BML's Annual General Meeting held at the Islamic Centre on Monday evening, Karl Stumke highlighted the bank's future vision and strategy built on the three core pillars of treating customers fairly, digitalisation and sustainability.
"Treating customers fairly needs to be central to our corporate culture. We need to ensure that our products and services perform to the standard that the customer expects and are designed to meet the needs of the specific target segments," he said.
"This year, we have significantly reduced interest rates on our student loans to 5% and reduced the overdue interest fee to 2% per month. Despite the Federal Reserve increasing interest rates 9 times over the past year, the Bank has not increased local rates and instead, absorbed these additional costs to ease the interest burden to our customers."
On digitalisation, Karl said although BML has made progress, its digital journey must continue.
"It is only through full automation that we can reduce errors, improve efficiencies, and give our customers the control to decide when, how and where they want to bank. We plan to bring positive changes to many of the products and services that currently require manual intervention and at the same time, add new security controls and increase our digital support platforms," he said.
Karl spoke on the importance of a committed and engaged ESG journey as part of the Bank's strategy on Sustainability.
"Our strategy will evolve over time and as we follow our own path, we will ensure we do our part to reduce our impact on the environment. This year, 56 new ATMs are planned to be installed and we will ensure that all are operated through solar panels and all new renovations works to our branches retrofits the use of sustainable energy as far as possible," he said.
Commenting on the bank's future, Karl said that they do expect competition as it is inevitable, but they will strive to continue to be the bank of choice in the Maldives.
"Our dominance in the domestic market constrains our ability to grow exponentially and we will need to seek new avenues and external markets for income generation. Our success will be measured by the customers 'wanting' to bank with us versus 'having' to bank with us and we must do everything in our power to make this paradigm shift," he said.