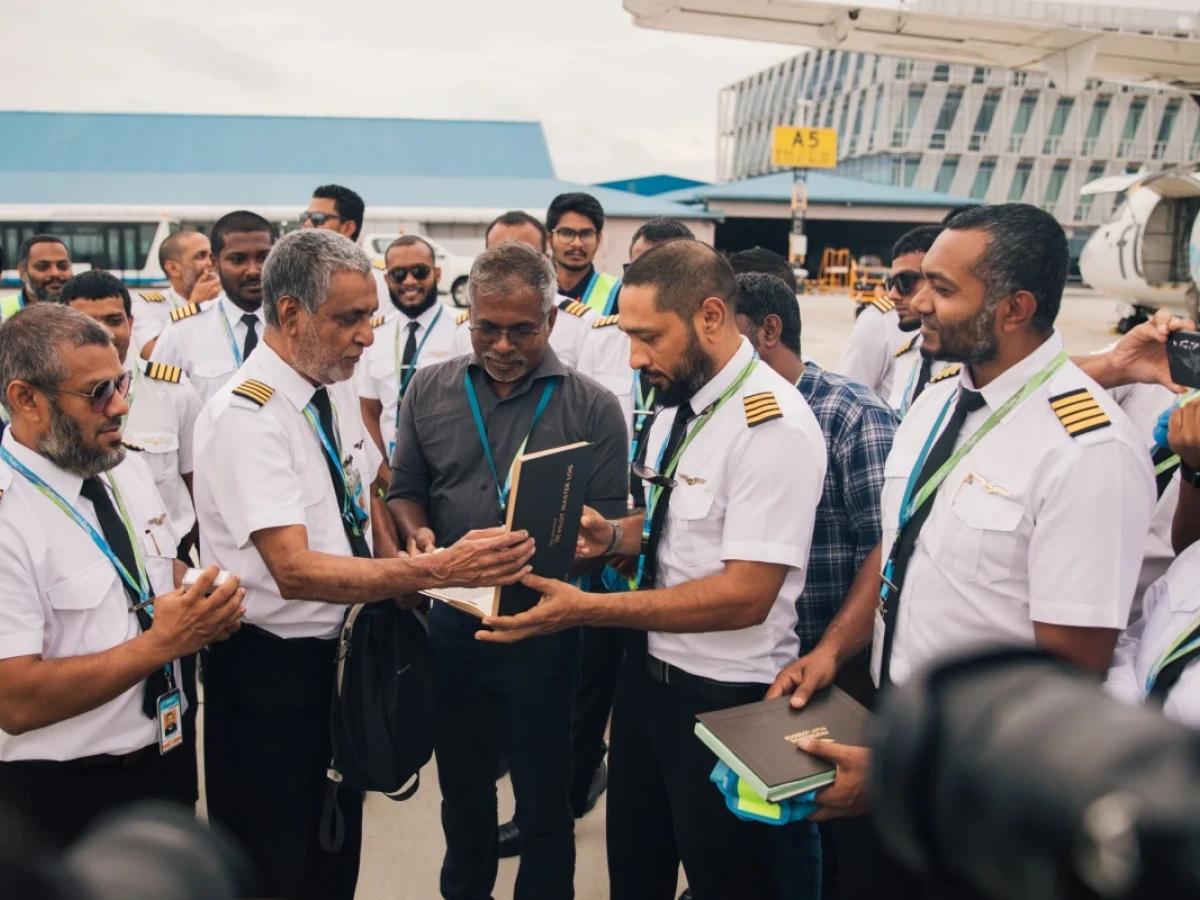 The country's first pilot retires after 42 years of service. Dhauru Photo/Hussain Sunain
Maldives first airline pilot takes final flight after 42 years of flying
After an 'emotional' moment, he shook hands with his colleagues at Villa Air, and his camaraderie with them was evident.
By Aishath Fareeha Abdulla
He is the first airline pilot in the country and is registered as the very first pilot. Captain Ibrahim Rasheed or Captain Ibure as he is commonly known, retired on Thursday after 42 years of flying, satisfied with the mileage he had covered in his career.
Rasheed, pilot license number ATPL001, retired from service while working at Villa Air. In his long career, he has worked in the military as well as in Air Maldives.
Rasheed operated the last commercial flight of his career from Maamigili to Velana International Airport (VIA) on Thursday. Along with the trip, a special ceremony was held at VIA to honour the services rendered by Rasheed.
A water salute was given as Rasheed's last flight landed at VIA

Several Villa Air employees and Rasheed's family were also present

When Rasheed's last flight was over and he got off the aircraft and met his family members. After an emotional moment, he shook hands with his colleagues at Villa Air, and his camaraderie with them was evident.
According to Villa Air staff, Rasheed is known for his good sense of humour.
After 42 years of flying, Rasheed stepped out of the cockpit right ahead of his 65th birthday on Friday. According to the country's civil aviation rules, a flight carrying passengers cannot be operated by a pilot who has attained the age of 65.
"It will be 40 years in August, that's how long I've been flying in this country," said Rasheed, who has been working in the Maldives since 1983.
Maldives sees aviation boom
Rasheed will be one of the people who can best appreciate the progress made in the aviation sector in the country. He said that when he first worked at the military, the runway apron was full when two planes were parked in Hulhule.
"If two planes land at that time, the apron will be full. The runway was 8,000 feet long. Now it's a huge runway. A big apron is being built as well as a new terminal. We have made a lot of progress," he said.
"For a country like ours where there are fewer people and fewer resources, this is a very good development."
Early career experiences are still exciting
Rasheed started his flying career in the Maldives while serving as a soldier. At that time, operations to pick up patients from rural areas and searches for missing people were the most difficult and interesting experiences, he said.
"At the beginning of my flying career, I was a soldier at that time. I came to rescue a lot of people. I've done a lot of things like finding missing people, finding people lost at sea, picking up pregnant women, picking up patients, etc. I think it's the happiest and most successful things I got to do."
President Nasir gave first chance
According to Rasheed, it was former president, late Ibrahim Nasir who facilitated him to become a pilot. At that time, Rasheed was in school.
"After that, due to some circumstances, flying was interrupted and I was allowed to do it again under President Maumoon. This time it was the then foreign minister Fathuhullah Jameel who helped. I was able to do it with the help of a lot of people," he said.
Rasheed said that it was not common and expensive to study aviation and become pilot at the time.
The pilot thanked all those who helped him move forward in different parts of his career.
'Do it with passion'
Today, there are a lot of young people studying aviation in the country and pursuing careers this field. There are many students who want to pursue a career in the field too.. Here's the message given by the country's number one pilot to all these youngsters: "Face it with passion".
"If you don't do it with your heart, it's not possible to do it well," he said.
"My hope was to live this up to this point. I have come so far by God's grace. I've reached the highest point in this career in the Maldives," the captain said, adding that working with interest will help in developing the career.