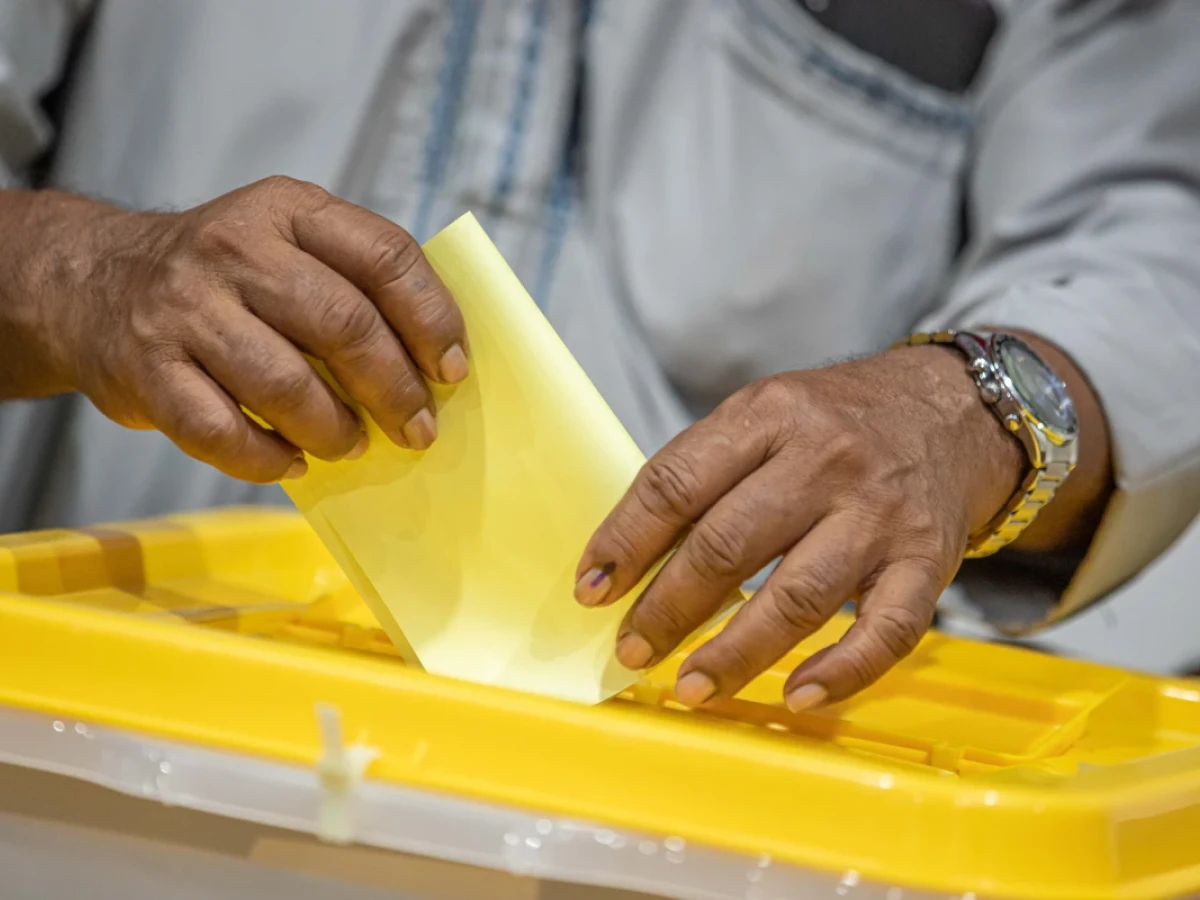 A man casts his vote during the voting in MDP's presidential primary. Photo/Abdulla Iyaan
283,272 eligible voters in pres polls; 58% in parties
Through the Election Commission's portal, people can get information about elections held since 2008.
As many as 58% of eligible voters in this year's presidential elections have signed up for political parties, according to Elections Commission data.
The total number of eligible voters this year is 283,272, according to statistics released by Vice Chairman of the Election Commission Ismail Habeeb. Of these:
120,337 people, 42% are not in any party

162,935 people, 58% have signed up for parties
When asked about the figures, Habeeb told Atoll Times that though the number of people showing that they have registered with the party is high, it is not the actual number. The reason for this is that the problem of people being duped into parties without their knowledge has increased.
"Some people have been registered without their knowledge. The calls come every day from people who have been uninformedly registered," Habeeb said, adding that the numbers will change in the future.
Factors such as deaths can also cause some changes in the statistics.
Despite the changes, Habeeb said it is expected that most of the eligible voters this year will be those who are registered with parties.
Habeeb said this year's elections are likely to be very different as compared to the 2018 elections. That year, only two candidates contested the elections.
Habeeb, however, added that the votes will also be divided into multiple bags as the number of candidates is expected to be more in view of the voices being heard this year. He also pointed out that during the votes, the votes of those who are in the party and those who do not belong to any party will be mixed up.
The Election Commission will launch a portal this month to show election data
Through the portal, people can get information about elections held since 2008
Detailed figures of eligible voters this year will be released soon
This will include data on the number of people who have signed up for different parties, the different age groups, and both genders.
This year's elections are scheduled to be held on September 9. So far, those who have announced to contest the election are:
President Ibrahim Mohamed Solih is seeking a second term after defeating former President Nasheed in the MDP primary (MDP)

Former President Abdulla Yameen Abdul Gayoom is currently serving a five-year jail term in a corruption case (PPM)

Former Defence Minister Mohamed Nazim (MNP)

Former Home Minister Umar Naseer (Independent)

Former Attorney General Dr. Mohammad Munawwar
The Jumhooree Party has said it will field a candidate for the presidential election, but there is no clarity on who will be fielded. The Adhaalath Party and the MDA have formed an alliance with President Solih.