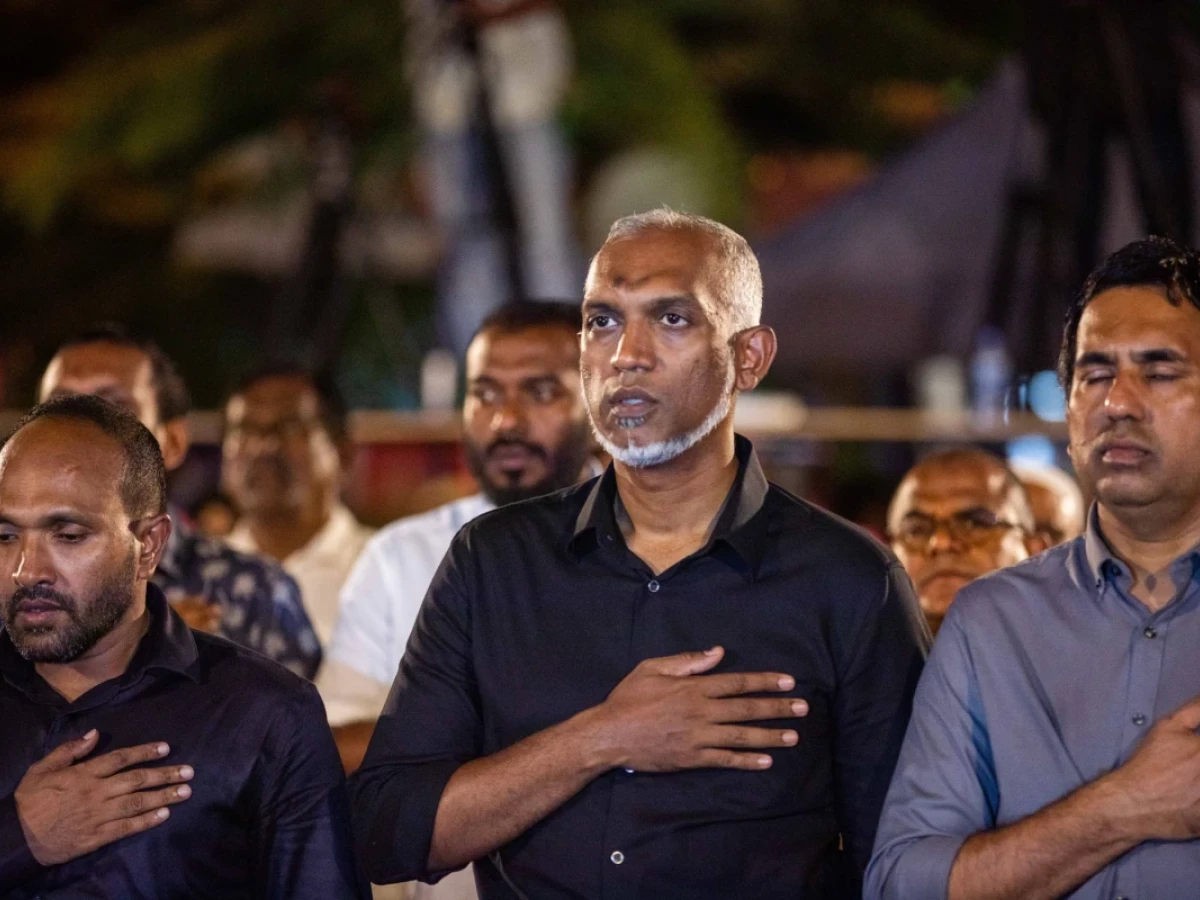 Mayor Muizzu attends the national anthem with the PPM leadership during a party event. Dhauru Photo/Hussain Sunain
Mayor denies abusing council resources for PPM power grab
Stating that he only acts on a professional basis, Muizz said that what people are saying is not true.
By Mohamed Muzayyin Nazim
Male Mayor Dr Mohamed Muizz on Thursday denied allegations that he is abusing his position and resources of Male City Council to take control of the opposition PPM's senate.
Muizz is accused of giving jobs in the city council to take control of the senate in order to get PPM's presidential ticket if the party's presidential candidate, jailed former president Abdulla Yameen loses his chance to run in the September 9 presidential election. This is being done by creating job opportunities from the council under different names, such as in the name of hiring consultants, critics say.
Muizz, who is also the party's vice-president, denied the allegations at a press conference held at the council's office on Thursday.
Muizz said that the city council hires employees to carry out necessary activities for the purpose of implementing the provisions of the council's action plan. It is not done for political purposes, he said.
"When we came to do it [to implement the action plan], we didn't have a team here to do it. We don't have enough people, especially in technical areas. Not much has been done in the previous terms to do such things," Muizz said.
"So, we decided to get people with expertise in different fields, people with the skills and experience to do it."
Muizz said that the issue of employment was investigated by some institutions and so far, they have not found anything out of principle.
"I won't do anything illegal at any point of time. The Male City Council will not function with political considerations. On the day I first came here, later and during the campaign, I would have said that the council will be run equally for all citizens and without discrimination from political considerations. That's how it goes," Muizz said.
Stating that he is acting on a professional basis, Muizz said that what people are saying is not true.
Denying repeated questions on whether any employee had been hired to take control of the Senate, Muizz said he was "not someone who would do anything, like other people do, to get what they want."
"I'm saying, I won't do such a thing. I don't do anything for political purposes, I don't do anything for my own sake. I did not come here to do my political work at the Male City Council."
"There is no way that a particular person will be favoured in this. Even if someone says something, it does not have to be accepted as truth."