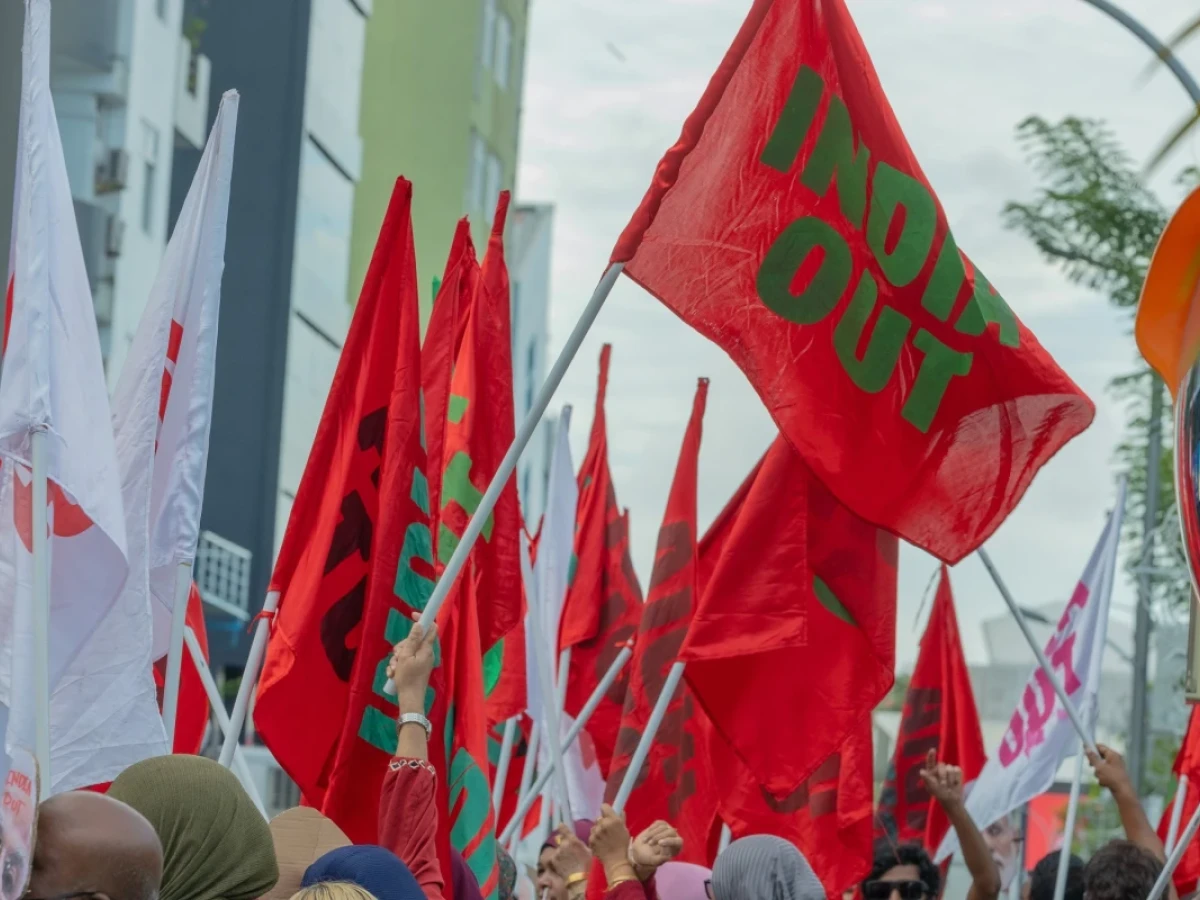 The opposition PPM-PNC, carrying 'India Out' flags, held a demonstration in Male in June demanding the release of former President Abdulla Yameen Abdul Gayoom. Dhauru Photo/Muzayyin Nazim
Muizz says will stick to India first policy, but within boundaries
"I believe that if we talk properly, these are issues that can be resolved", Dr. Muizz said.
By Mohamed Muzayyin Nazim
Under his government, Indian troops stationed in Maldives will have to leave 'respectfully' but will still uphold the long-standing India First policy without undermining the country's independence and sovereignty, opposition PPM-PNC presidential candidate Dr Mohamed Muizz said on Saturday.
Muizz made the remarks in an exclusive interview with Atoll Times' sister publication Dhauru, on the third episode of the media agency's Siyaasee Vaahaka show.
"Respectfully, their [Indian] troops have to leave. Still, this country and India will maintain a very close relationship. The most important thing is that we have to have an 'India First' policy. That is, we are the one who will stay here [in this region] forever," Muizz said when asked how the Indian troops would be withdrawn from Maldives.
"We have nothing to disagree with [India] except the current Indian government's policy of interfering in our own affairs and undermining our sovereignty."
At the launch of Muizz's manifesto in Hulhumale on Monday night, he also spoke about foreign policy somewhat. He had said that he would pursue a foreign policy that would not fall into the trap of any country so that freedom would not be compromised. He, however, did not say in the past directly that an India First policy would be maintained.
In the interview on Saturday, Muizz said:
India is inextricably close to Maldives in many ways; Many Maldivians also go to the country for medical treatment and there are close cultural ties

However, Indian troops should not be allowed to stay in Maldives
"Not only India, no other country should have a military presence here. By international standards [and] militarily, this is a very small, weak and poor country -even if we have our own military. So, we don't want a powerful country's military here," the PPM-PNC presidential candidate, whose parties have been running a massive campaign called India Out for the past three years, said.
"India is the closest [and] friendliest neighbour. Therefore, we will maintain the 'India First' policy. India should have a top priority in our foreign policy."
Former President Abdulla Yameen's government's foreign policy also had been India First on paper, but relations with India deteriorated during that regime. The government also received aid and borrowed from China for major loans and development projects.
'China doesn't meddle with internal affairs'
Muizz, who is contesting the election with Yameen's support, said China is also a very helpful and important country for Maldives. He noted that a close relationship will also be maintained with China in his regime.
"China is a country that gives us a lot of help [and] they don't meddle with any internal affairs. We will also develop closer relations with that side. In other words, with all countries, whether big or small, [and] Islamic countries, all of them, we should form good friendly relations that are mutually beneficial", Muizz said.
Respectfully, their [Indian] troops have to leave.
Dr Mohamed Muizz / PPM-PNC Presidential Candidate
Even if we maintain friendly relations with any country, they must not cross lines, he said.
"No other country can be allowed to do anything that will undermine the independence of this country. We must have our own independence. We must be able to speak [freely] on behalf of the Maldivian nation," he repeatedly said.
Indian troops will be shown out diplomatically
Back when, the Yameen government had canceled the visas of Indian soldiers stationed in Maldives to send them back. Yameen himself had repeatedly expressed concern that the Indian troops had not withdrawn despite that.
Muizz affirmed this to Atoll Times on Saturday. Therefore, when questioned on how it would be done in a Muizz government, he said it would be done through negotiation.
"What you have to do here is sit at the table. Sit down and talk," he said.
Noting that the current government has started many projects with Indian companies in Maldives, Muizz said, "These are also things that the [Indian] government will want to protect". Therefore, he believes that a solution can be found in discussions regarding outing Indian troops.
"In any case, if it is beneficial to the country, my view is that we should go ahead with it. But [going] forward, we cannot go to the point of losing our sovereignty and give that opportunity to others here," he said, referring to India's projects in Maldives.
"So, it has to come to a mutual understanding [to the benefit of both sides]. We have to work this out so that our boundaries are not crossed as we continue the development in our country, with our independence intact, [and] with Indian investments given opportunities in Maldives. I believe that if we talk properly, these are issues that can be resolved".