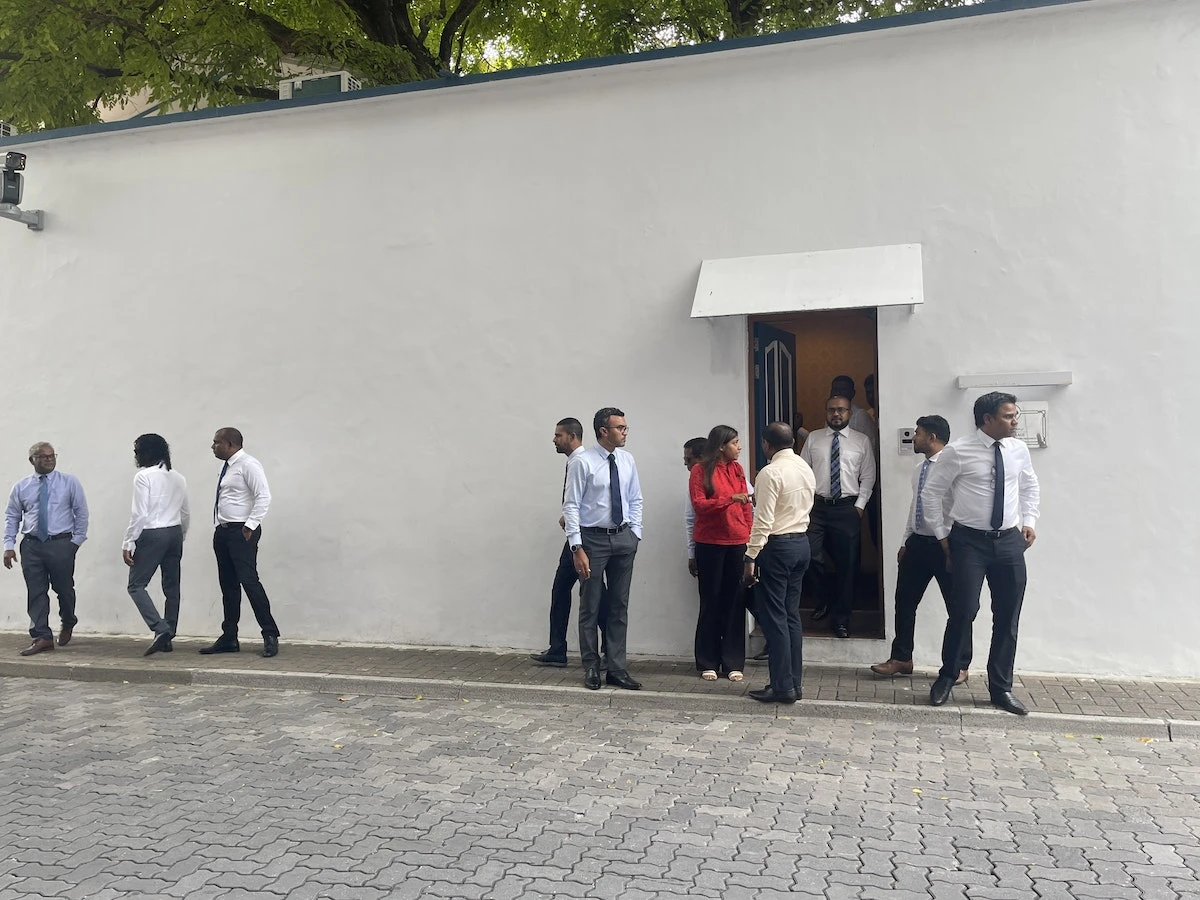 Lawmakers leave Muliaage after meeting with the president on 15 November 2022. Photo/Dhauru
MPs urge president to intervene to restore parliamentary order
During the debate on the tax bill in the parliament on Tuesday, live feed was cut off from the YouTube channel of parliament.
By Mohamed Muzayyin Nazim
MDP's pro-government lawmakers held an emergency meeting with President Ibrahim Mohamed Solih Tuesday afternoon at the presidential residence after the parliament concluded its sitting without voting on the tax increase bill for a second day.
During the meeting, the members complained to the president about the way Speaker Mohamed Nasheed was handling the proceedings of the parliament.
The government's bill to raise taxes from next year, the report of the entire parliamentary committee was first scheduled for Monday's meeting. However, both Monday's session and Tuesday's session were concluded without voting on the bill.
As soon as the session concluded, more than 30 MDP members went to Mueelage and conveyed their grievances to the president.
After the meeting, MDP's parliamentary group leader, Hithadhoo North MP Mohamed Aslam, told Atoll Times that the lawmakers had requested the president for his advice to restore normalcy in the parliament.
"Some members even proposed the removal of the speaker. There was also a proposal to amend the Parliamentary Rules. But no decision has been taken," Aslam said.
Aslam said President Solih wants to pass the bill to raise taxes as soon as possible without issuing any disrespect to the speaker.
Other members who came out of the meeting also told Atoll Times that the Speaker now enjoys considerable powers as per the rules of the parliament. As a result, Nasheed is misusing these powers, some members said.
"That's why the members suggested that the rules be amended more strictly," said an MDP member who spoke on condition of anonymity.
While the tax bill was thrown open for discussion in Tuesday's session, none of the members wanted to speak on it in the house on the Monday session. Since none of the members wished to speak, the parliament session was concluded abruptly without going to a vote, saying that there was no quorum to vote. At that time, Vilufushi MP Hassan Afeef, who belongs to the Nasheed faction, was in the chair.
During the debate on the tax bill in the parliament on Tuesday, live feed was cut off from the YouTube channel of parliament. The reason behind this censoring is not known yet. Nasheed presided over the session on Tuesday.
The government has proposed a tax hike from January:
GST to be hiked from 6% to 8%

TGST to be hiked from 12% to 16%

The opposition party had gathered outside the Parliament house on Monday and Tuesday to protest against the tax hike.