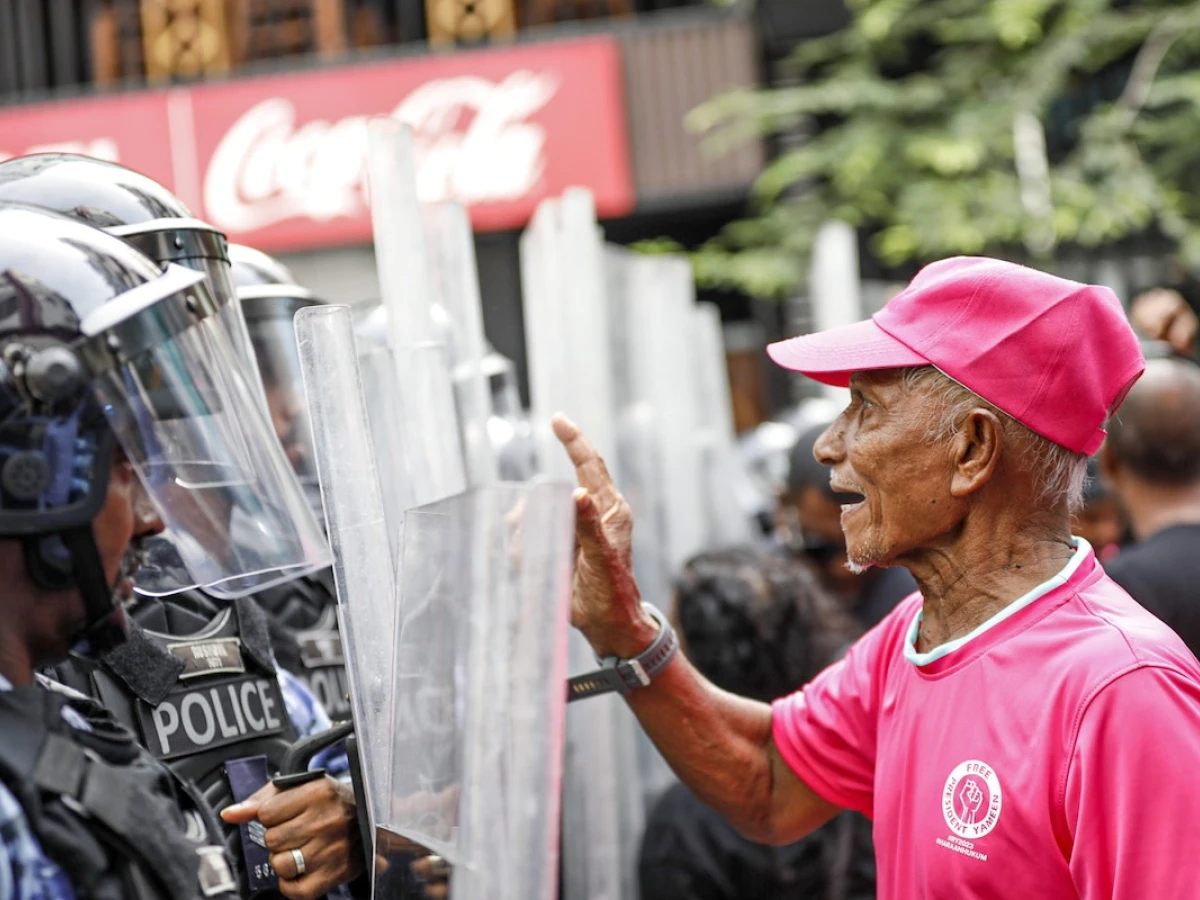 During the protest by the opposition coalition outside Peoples' Majlis. Dhauru Photo/ Abdulla Iyaan
17 arrested from pres address protest; journalist injured
Majlis reconvened after opposition coalition MPs that protested were evicted.
Seventeen people have been arrested in connection with the opposition coalition's protest against the opening of parliament this year.
Many of the protesters were injured, including a Channel 13 journalist who is currently undergoing treatment at ADK.
The opposition began the protest Monday morning near Majeedhiyya School in Sosun Magu, after President Ibrahim Mohamed Solih's visit to open the parliament was cordoned off.
The protesters demanded the release of former president Abdulla Yameen Abdul Gayoom, the coalition's presidential candidate who was convicted of bribery and money laundering and sentenced to 11 years in prison. They are also raising their voice against corruption in the present government.
Police used force to disperse the protesters and used pepper spray, said Atoll Times journalist on-scene. Rows of policemen in riot gear, carrying shield,. prevented the protesters from leaving Sosun Magu and kept them held back.
Party spokesperson Heena Waleed told a party media group on Monday:
Many were injured during the protests; many of the party MPs were also with them

Channel 13 journalist Hassan Shaheed was badly injured after being hit by a police shield; he is being treated in intensive care unit


At least 17 protesters were arrested

While Heena claimed that the injured journalist was being treated in the Intensive Care Unit, ADK Managing Director Affaal Ahmed told Atoll Times that none of the injured during the protests were being treated in the ICU.
Speaking at a press conference after the protest by the opposition coalition, Maduvvari MP Adam Shareef said the injured journalist was still unconscious.
Maldives Journalists Association (MJA) tweeted expressing concern over the injuries to two Channel 13 journalists who were covering the protest. The MJA also confirmed that one of their own is currently undergoing treatment at the hospital.
"The videographer and photojournalist wearing media passes were hit by police shields and were also affected by pepper spray," the MJA tweeted.
A VTV journalist, who was busy covering the protest in the area, said supporters of the opposition coalition threw bottles of water at journalists. The scenes will be live streamed on TV as well, they said.
While the opposition was protesting on the streets, MPs belonging to the alliance also protested inside Majlis. Due to the protest, president Solih's presidential address was delayed. When the opposition members raised their voices, their names were called. Majlis reconvened after the members were evicted.