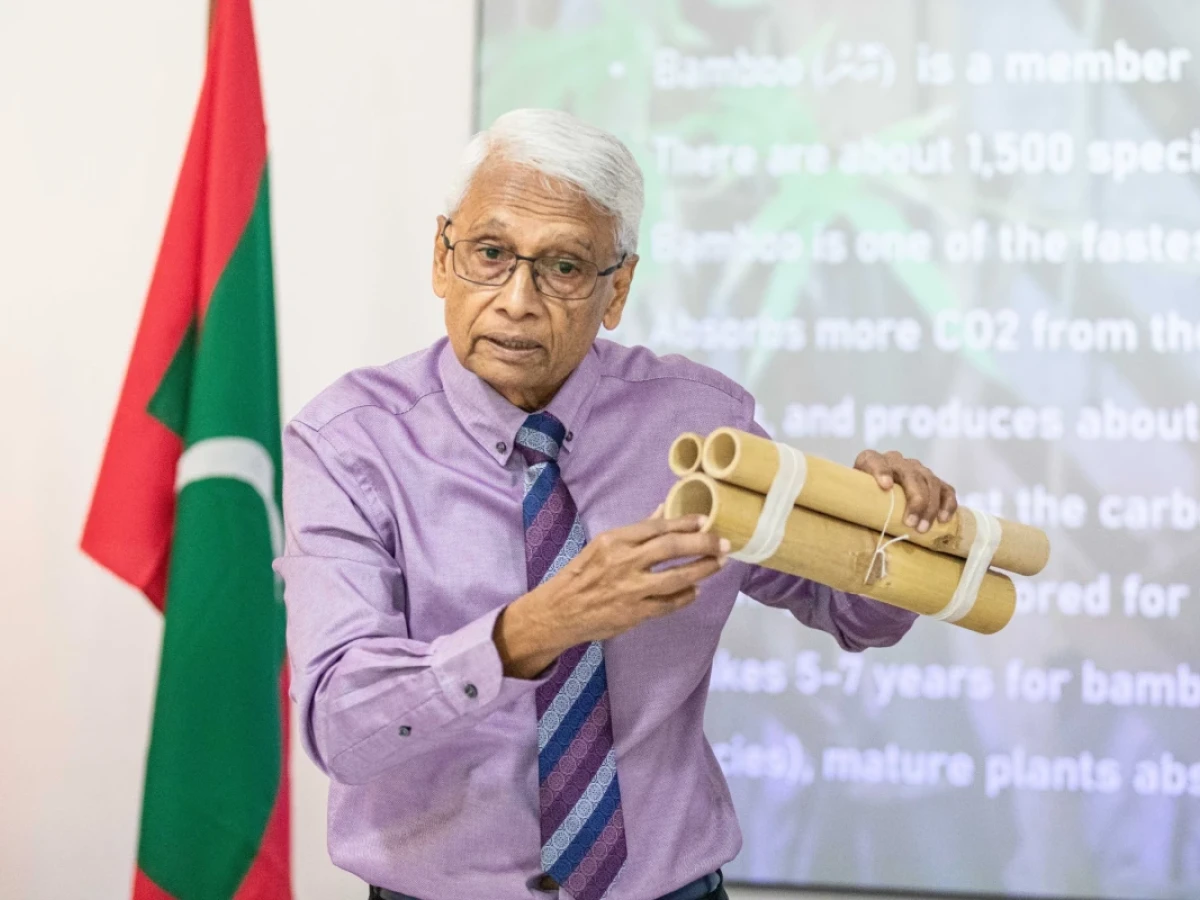 Abdul Aziz Abdul Hakim speaks at a press conference on the bamboo planting project. (Atoll Times Photo/Abdulla Iyan)
Bamboo planting project aims to support Maldives' carbon neutral goal
The project is supported by Atmosphere Foundation, the philanthropic arm of leading Indian Ocean hospitality group Atmosphere Hotels & Resorts.
Environment ministry on Thursday launched a project in partnership with Atmosphere Foundation to plant bamboo trees in Maldives, in a bid to support the goal of making the country carbon neutral.
Under the Paris Agreement signed by UN member countries to reduce greenhouse gas emissions and address the climate crisis, the Maldives has announced an ambitious target of reaching net zero by 2030.
At a press conference held at the environment ministry, Atmosphere Foundation's Abdul Aziz Abdul Hakeem said that the philanthropic arm of leading Indian Ocean hospitality group Atmosphere Hotels & Resorts will donate 500 bamboo trees for the project.
The foundation will soon bring in 100 saplings, which will be placed in a nursery before being planted in the satellite town of Hulhumale, he said.
Aziz said that bamboo was earlier cultivated in the Maldives and used to prepare items such as fishing poles. However, he noted that the size of the few bamboo plantations in the islands have also decreased over the years, prompting the need to rejuvenate the species in the country.
Pointing out that bamboo is a beneficial tree, Aziz said countries were encouraged at the recently-concluded COP27 UN climate summit to plant bamboo.
Atmosphere Foundation will work with Indian agricultural scientist Dr Bharati Nambi to ensure that bamboo planting is done in the most productive manner. Aziz said that once Nambi arrives in the Maldives, he will estimate the number of trees that need to be planted and how much carbon dioxide will be reduced.
With this, a decision will be taken on the way forward with the plantation of trees to achieve the targets under the project.
The bamboo planting initiative is part of Rah Fehi or Green Island programme, championed by President Ibrahim Mohamed Solih under a presidential pledge.
"Our aim is to do everything possible to make [the Maldives] a carbon neutral country. Planting bamboo is part our efforts to reach that target," environment ministry's Director General Mohammad 'Meemu Zaviyani' Zahir said at the press conference.
The support of resorts, businesses, companies, councils and the general public is urgently needed for the successful implementation of the project, he said.