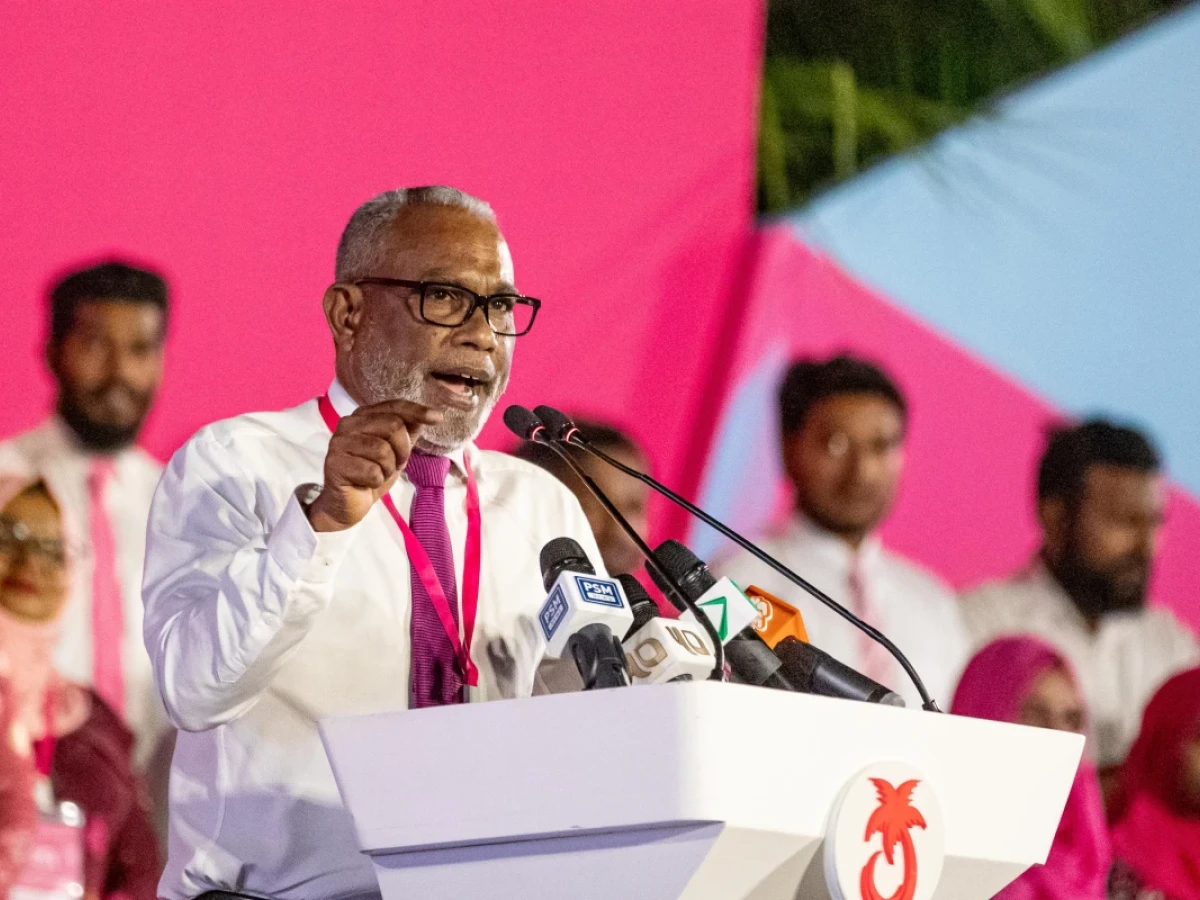 Abdul Raheem speaks at a party meeting. Dhauru Photo/ Abdulla Iyaan
Abdul Raheem to army, police: 'Don't defend 'finished' govt'
Male Mayor Dr. Mohammad Muizzu and other members of the party leadership also spoke on the occasion along with Abdul Raheem
Opposition coalition's interim leader Abdul Raheem on Friday called on the police and military not to defend the government, claiming that President Ibrahim Mohamed Solih's regime is already over.
Abdul Raheem, who is the President of PNC, made the remarks while launching a massive protest in Rasfannu, Male, as part of a series of protests by the opposition demanding the release of former president Abdulla Yameen Abdul Gayoom.
"What I want to say [to our police and our armed forces] is, don't defend this government again. This government is done. Ibrahim Mohamed Solih's government is over," said Abdul Raheem.
"Ibrahim Mohamed Solih is just hanging on, waiting until President Abdulla Yameen Abdul Gayoom is sworn in as president on November 17, 2019."
According to Abdul Raheem, the country's armed forces and police should come out to defend the country and its people.
"They should be a part of what we are doing, allow us space to do this work. They should not have obstructed us," he said, adding that the security forces should also be allowed to join the opposition's work.
Abdul Raheem reiterated in Saturday's speech that there was no room for any non-PPM-PNC party to question the opposition's presidential candidate and that Yameen was the opposition coalition's presidential candidate.
"I would like to tell PPM-PNC members... Today, instead of getting frustrated, we should renew our morale. The government has failed. We defeated a government that fights among themselves," Abdul Raheem said.
Abdul Raheem said Yameen's appeal, which is currently pending in the High Court, will end in favour of Yameen. He said he was confident about it.
Male Mayor Dr. Mohammad Muizz and other members of the party leadership also spoke on the occasion along with Abdul Raheem at the protest held by the opposition in Male on Saturday, kicking off with the traditional feasting Maahefun before Ramadan.
The police put up barricades in front of the social centre to prevent the protesters from leaving Rasfannu area and detained the opposition members in the area. The protesters were shouting for Yameen's release and police to perform their duties properly.
People from different atolls participated in the protest organised by the opposition coalition across the country on Saturday.