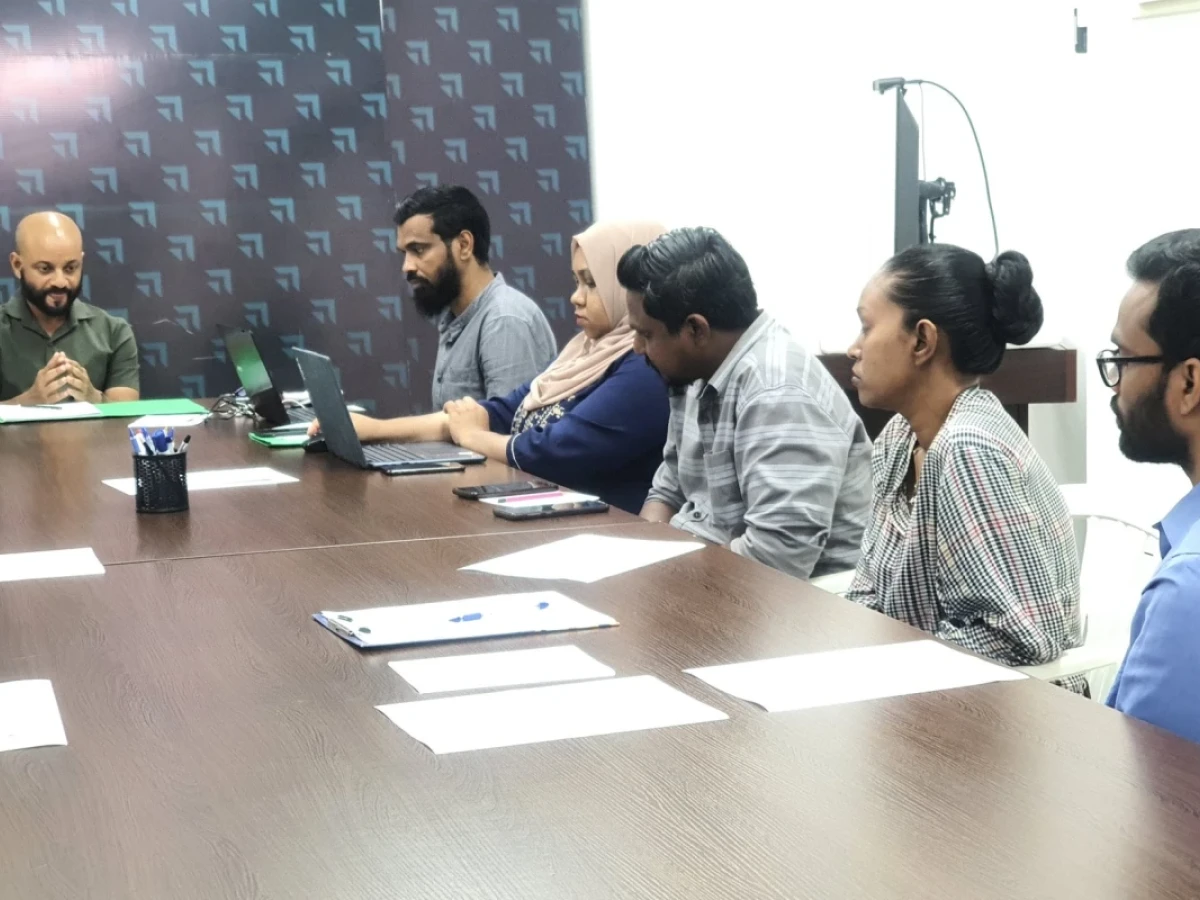 MRM's executive committee meeting is chaired by party president Faris Maumoon. Photo/MRM
MRM to oppose govt's stand on Chagos dispute
More than 20 of the nearly 30 members who attended the MRM meeting voted to oppose the government's stand on the Chagos issue.
By Mohamed Muzayyin Nazim
Maldives Reform Movement (MRM), part of the ruling coalition, on Sunday decided to oppose the government's position on the delimitation of the maritime borders between the Maldives and Chagos, despite an international tribunal ruling on Friday to separate the waters between Chagos and the Maldives.
Former President Maumoon Abdul Gayoom-led MRM made the decision at an emergency meeting of the party's executive committee held on Sunday evening.
MRM spokesman Ismail Nail Nasheed told Atoll Times on Monday that the meeting was held to discuss the Chagos issue.
"The party's stand on the Chagos issue will be made public soon," he said.
An executive committee member who attended the meeting, speaking on condition of anonymity, said more than 20 of the nearly 30 members who attended the meeting voted to oppose the government's stand on the Chagos issue.
It is learnt that after the decision was passed, MRM has decided to carry out activities in the matter.
The party's stand on the issue, including the words of the professionals, to make it clear to the public
MRM opposes govt's stand and will write to President's Office to express concern
The meeting, chaired by Maumoon's son Faris Maumoon, who is the president of MRM, was also attended by some members who also spoke in favour of the government's stand. Among them is Yumna Maumoon, the daughter of Maumoon, who is also the heritage minister.
On Friday, the International Tribunal for the Law Of the Sea ITLOS) ruled that the separation of Maldives and Chagos, which is internationally recognised as part of Mauritius, should be taken into consideration from the shores of the islands of Chagos.
According to the government, the verdict in line with the country's stand is a great achievement. However, those opposed to the ruling believe that the country deserves more territory.
Earlier, at the United Nations, Maldives voted against Mauritius

However, when ITLOS recognised Chagos as a place of Mauritius, the state changed its stand and decided to recognise Chagos as a place under Mauritius sovereignty


In August, President Ibrahim Mohamed Solih wrote a letter to the Prime Minister of Mauritius acknowledging Mauritius' sovereignty over Chagos

At the time, when ITLOS hearings were underway late last year, when the letter issue came to light, the MRM had spoken out against it and demanded an explanation as to why the government changed its stand.
Mauritius has continuously claimed that Chagos is under their sovereignty ever since its separation by the British in 1965.
When the UN General Assembly sought the International Court of Justice's (ICJ)'s advice, in 2019, they recommended that the Chagos islands came under Mauritius sovereignty

The same year, the UN General Assembly adopted a resolution urging Britain to hand over Chagos to Mauritius within six months


Mauritius filed the delimitation case at ITLOS based on the ICJ's recommendation