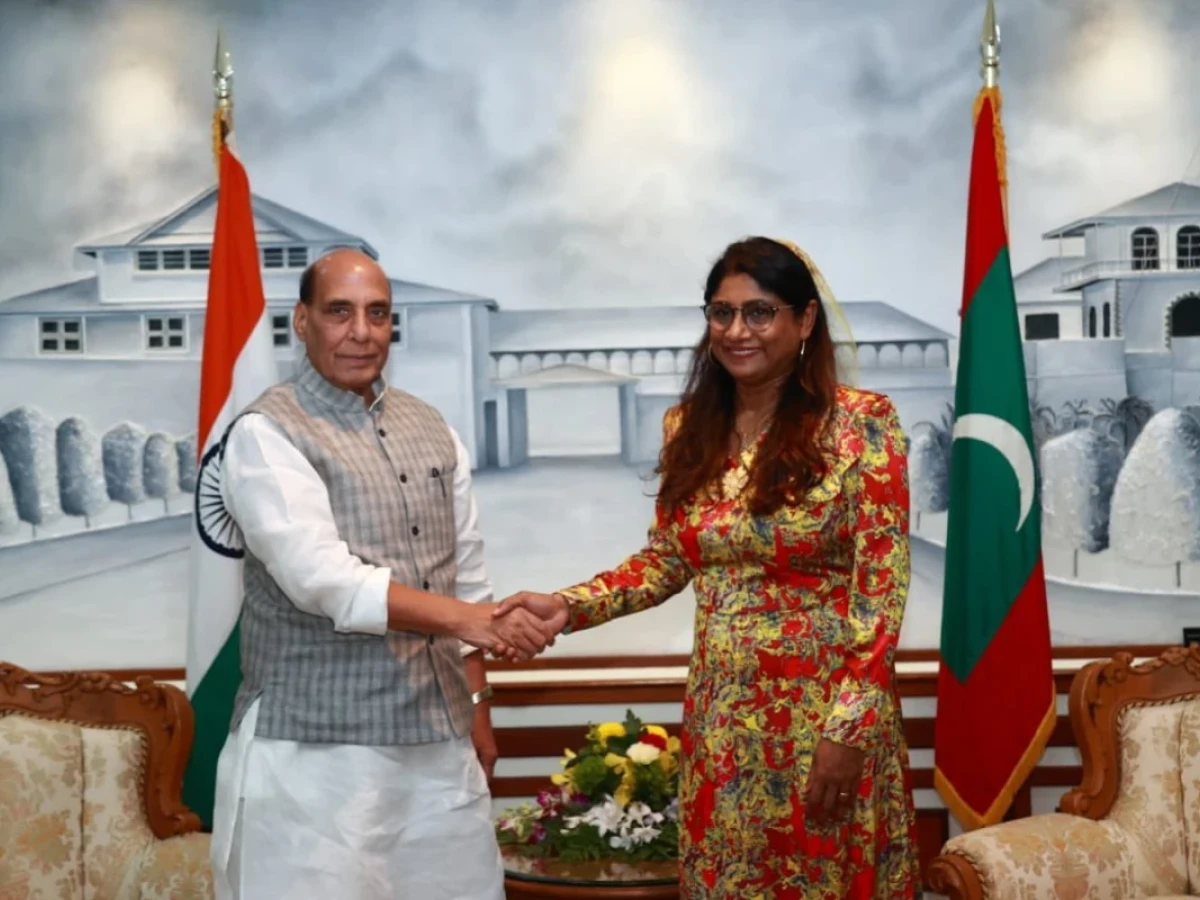 Indian Defence Minister Rajnath meets Maldivian Defense Minister Mariya. Photo/Ministry
India to step up security assistance to Maldives
Noting the achievements made by the two countries in their joint efforts in defence and military fields, the two ministers agreed to extend greater cooperation.
By Mariyam Umna Ismail
India and Maldives agreed to expand security assistance on Monday.
Bilateral security matters were discussed during a meeting between visiting Indian defence minister Rajnath Singh and his Maldivian counterpart Mariya Ahmed Didi.
During the meeting held at the army headquarters, Bandara Koshi, the two minister held wide-ranging discussions on the security challenges in the region and the changing global security situation.
Emphasising the importance of maintaining peace and tranquillity in the region, the two countries stressed the need for the two countries to work together to address the challenges of regional security

They discussed the importance of respecting international laws and regulations in ensuring the security of the region and the need for the two countries to uphold them together.

Noting the achievements made by the two countries in their joint efforts in defence and military fields, the two ministers agreed to extend greater cooperation to each other in the areas of counter-terrorism, disaster management, cyber security and maritime security. Here are some of the things that the two leaders discussed:
Enhancing capabilities in defence and economic sectors as well as other things that can be done to strengthen the long-standing friendship between the two countries

The two countries to conduct joint training


The importance of strengthening interpersonal relationships even at individual levels

Rajnath's three-day visit to the Maldives is on Mariya's invitation. During this trip:
MNDF coastguard ship Huravee to be officially handed over to Maldives government by government of India

He will inaugurate MNDF coastguard port and dockyard project in North Thilafalhu


Landing craft and some military equipment to be donated to MNDF