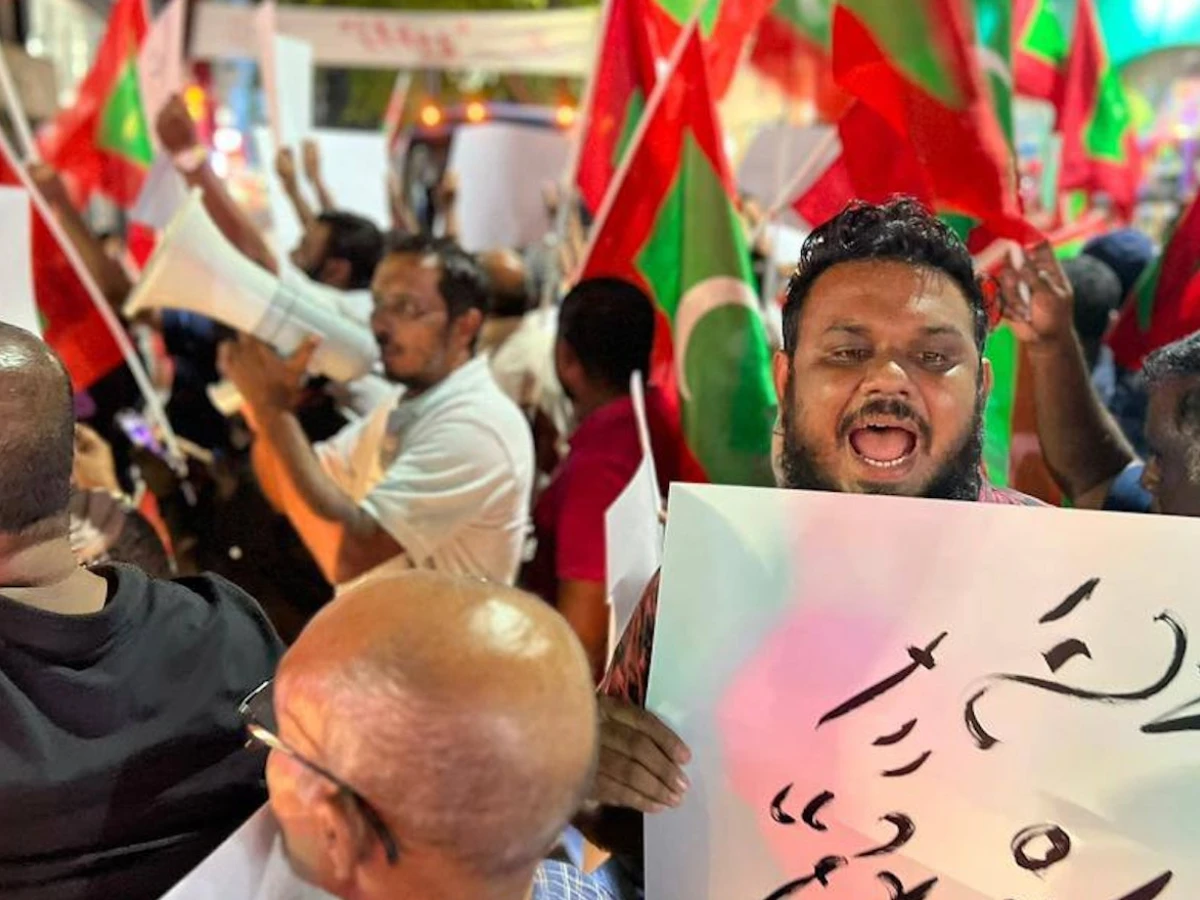 PPM members stage protest at the junction of Chaandhanee Magu and Majeedhee Magu, Male, on 25th December 2022. Photo/PPM
Supporters take to streets after Yameen's jail sentence
Yameen was taken to Maafushi Prison around 7:45 pm after the verdict.
By Aminath Shifleen
Former President Abdulla Yameen Abdul Gayoom has been sentenced to 11 years in prison for laundering $1 million in kickbacks in the lease of V.Aarah, and supporters have started protesting for his release.
After Yameen was found guilty in the trial held Sunday afternoon, a hearing was held in the afternoon to decide on the quantum of punishment. During the hearing, the court ruled:
Sentenced to four years in jail for accepting bribe

Sentenced to seven years in jail for money laundering


Imposed a fine of $5 million

Yameen was taken to Maafushi Prison around 7:45 pm after the verdict.
Yameen's supporters were devastated after the verdict was handed down to him, who had announced that he would run as a PPM/PNC candidate in the upcoming presidential elections. They have been protesting against the verdict and demanding the release of Yameen, in the junction between Majeedhee Magu and Chaandhanee Magu, Male.
The police arrived to break up the protest

Some of the protesters were detained


Many police deployed to disperse protesters

Yameen's lawyers have said they will appeal the verdict.
Addressing a press conference, his lawyers said it was against the law and the verdict was unacceptable.
Expressing dissatisfaction over the verdict, former Vice President Dr. Mohammad Jameel Ahmed, one of Yameen's defence lawyers, expressed dissatisfaction over the verdict. He said none of the evidence presented by the state showed the nature of the crime Yameen was sentenced for.
"Not a single piece of evidence has been presented to the state, how president Yameen misused his official position and the manner in which president Yameen interfered in the conduction of the act," Jameel said.