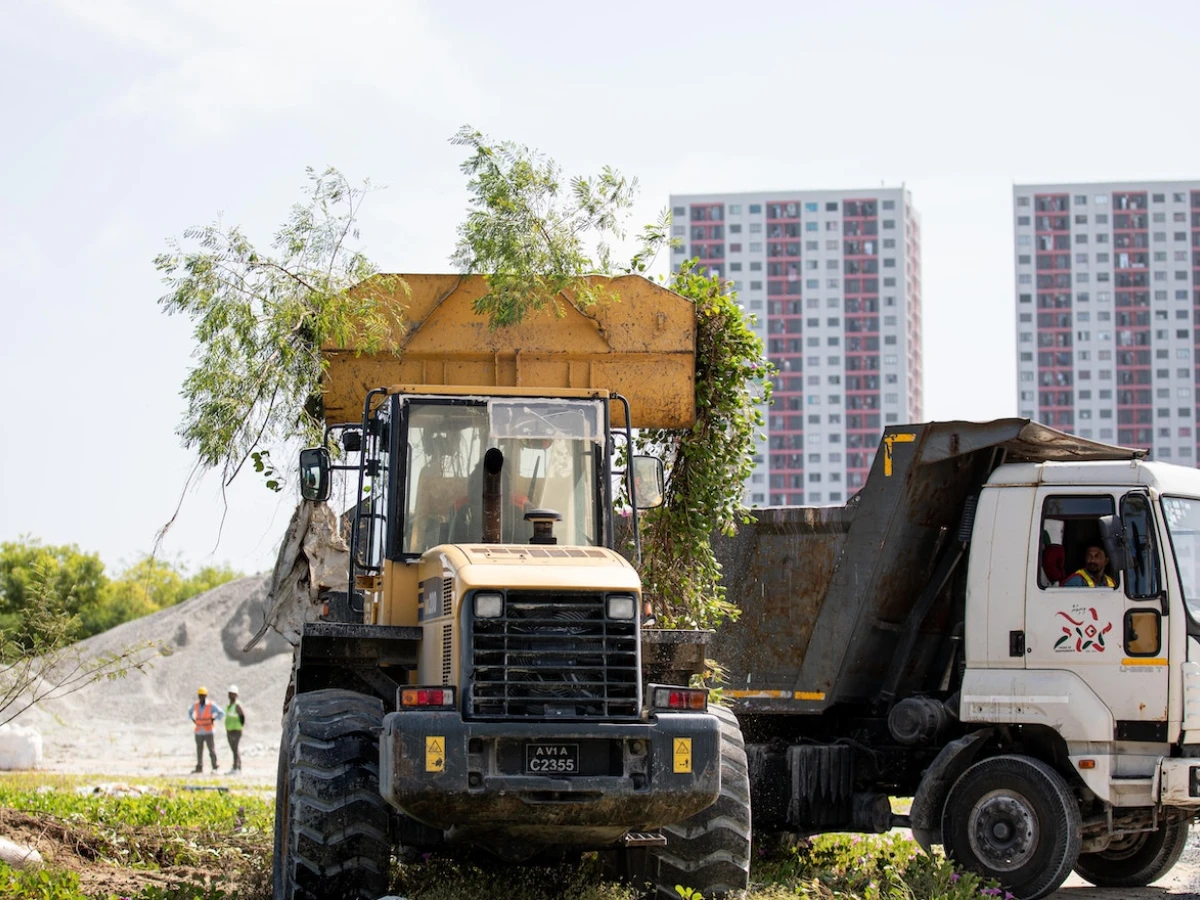 The area earmarked for allotment under the 'Binnveriyaa' scheme being cleared. Photo/Abdullah Iyaan
1,000 plots for Male residents allotted from Hulhumale
HDC says the land would be cleared by the time the applications for the plots were evaluated.
By Aishath Fareeha Abdulla
Hulhumale on Thursday began clearing 1,000 plots allotted to the residents of Male under the Binnveriyaa scheme.
HDC has started cleaning up the land allotment area in Hulhumale Phase II under the Binnveriya scheme. Speaking at the site, HDC Managing Director Ahmed Athif said that the land clearing process would be completed within two weeks.
Athif said that the allotment of land in Hulhumale is an important step towards addressing the problem of congestion in the Male' area.
"What we are trying to do on behalf of HDC is to clear the land earmarked for allotment," Athif said.
Land for 1,000 plots allotted in Hulhumale will be cleared, segregated and demolished

Even the smallest plots will have 1,250 sqft

Senior Executive Director of the Ministry of Housing Mohamed Arif said that 1.2 million square feet of land has been allotted to the Housing Ministry by HDC in the second phase of allotment of land in Hulhumale.
"These lands are being distributed in 62 areas. There are a lot of development activities in Hulhumale and there are some types of land for storage purposes," Arif said.
He said the land would be cleared by the time the applications for the plots were evaluated.
"We are targeting for the forms to be evaluated and completed by March. We are pacing the process of clearing the area so that the land owners can be immediately handed over their lands by the time the evaluations are complete," Arif said.
List of beneficiaries of land and flats under Binnveriyaa and Gedhoruveriyaa schemes are to be made public in March

After that, the permanent list will be made public based on the complaints received

Earlier, the housing ministry had said that around 36,000 applications had been received under the Binnveriyaa scheme for allotment of houses to the residents of Male and the Gedhoruveriyaa scheme for allotment of flats in the Male area.
For land – 15,164 applications

Three-bedroom apartments - 14,489 applications


Two-bedroom apartments - 6,208 applications


Total - 35,861 applications

Binnveriyaa Scheme
Under the 'Landlord' scheme, land plots will be allotted from Hulhumale and Gulhifalhu. The total size of the land earmarked for allotment under the scheme is 3.7 million sq ft. According to the ministry, the number of plots to be allotted will be decided based on the size of the plot to be allotted to the individual applications selected for allotment.
The minimum size of the plot available for an application is 1,250 sqft

For joint applications or applications filed in the name of more than one person, each additional participant can increase the size of the plot by 400 sqft


If more than seven people participate in the joint application, they can get a total of 4,000 sqft