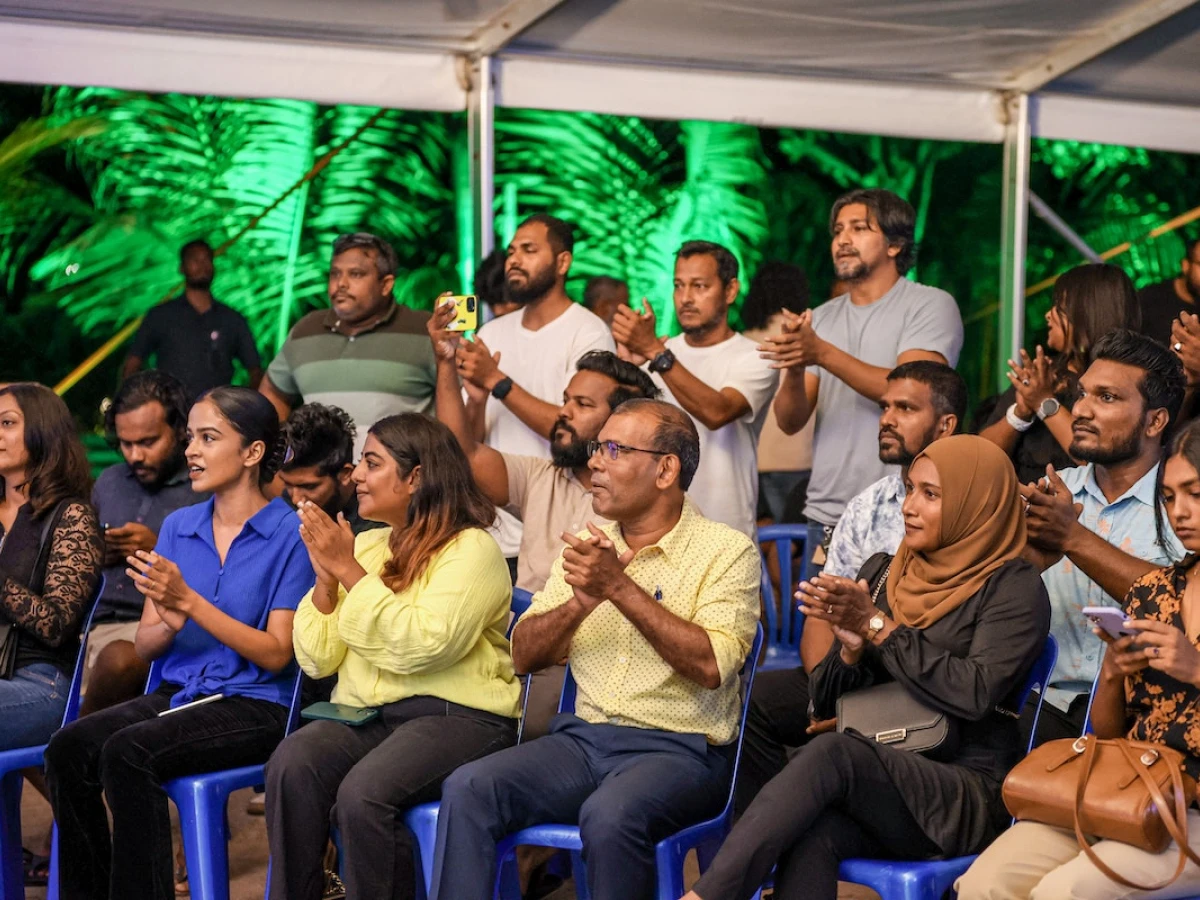 MDP's presidential primary candidate Mohamed Nasheed meets with the youth. Dhauru Photo/Abdullah Iyaan
Nasheed says goal is to double people's income
"If the gap between national income and household income is so large, I would expect the population to detach (ties with the state)", Nasheed said.
By Ahmed Mizyal
MDP President Mohamed Nasheed said on Wednesday that doubling the bank accounts of the general public will be the main goal of the manifesto in the next MDP government after he wins the presidential primary.
As MDP's presidential primary elections are scheduled to be held on Saturday, Nasheed held a meeting aimed for the youth at Lonuziyaarai Park on Wednesday night and listened to the concerns of the youth. He also allowed the youth to question him in the meeting.
When the youth questioned Nasheed from various angles, one of the main concerns was the limited good opportunities to earn enough in their youth and the fact that many young people are forced to borrow for self development.
One of the key questions that one youth posed to Nasheed at the meeting was: "Do you know that the youth are very frustrated? MDP has the highest number of young members. Can you tell us why the youth should come out to vote for you in this primary? What is different in you, why should we choose you?" he asked.
When the applause died down for this question, Nasheed first explained why they should vote for him instead of his rival President Ibrahim Mohamed Solih.
In response to the question, Nasheed reiterated what he had pointed out several times during his primary campaigns. He spoke about the huge difference between the rate at which the state's revenues have increased in the last few years and the percentage of people's incomes.
"If the gap between national income and household income is so large, I would expect the population to detach (ties with the state). The relationship seems to be gone now. A very large population has been separated from the state, left, it has completely detached," he said.
He is the one who will resolve the issue, Nasheed said.
"The big goal of my manifesto this time is nothing else, I will double your bank accounts. This is where we should head," Nasheed said.
"Then I will complete water and sewerage projects in all the islands, I will build Futsal fields, I will build a multipurpose hall, I will build classrooms, yes, I will have to do all that. But the focus should be on the bank accounts. My theme this time is to double the bank accounts."
However, without divulging further details, Nasheed concluded his speech on the subject. Earlier, while sharing his views, he had said:
Maldives is a middle-income country

The country's natural resources are abundant


There are a lot of skilled workers among the locals now


Secondary education is legally mandatory; there should be a young population who are educated and aware


A very good social security programme is underway

"So, what's the policy about how we can improve what's in our income, what's in our pocket, what's in our bank accounts. My aim is not to continue to do things without cinsidering a small town, a big one, a deserted island, a lagoon," he said.
"My aim is to see surgically what has happened to him, what has happened to them. To implement policies that can give him a different option before he is forced to sell his votes to any politician or become a slave to anyone else; if there are other ways the state can develop these people before that."
'President Solih has no policy'
The reason for voting for him, Nasheed said, was the policies he proposes to implement in the next MDP regime. He said the main focus would be to increase the bank account balance of the people.
"I've got a picture to offer. I'm going to explain a way to reach that point. I am explaining how to travel on that road," Nasheed said.
Another reason to vote for him instead of President Solih is that Nasheed said that the president did not talk about policies.
When they've reached this far in the primary campaign, Nasheed said that the public must had heard the words from both sides. He said he had never heard his rival talk about any policy.
"It is very important to vote for President Solih if you are to take a candidate for the coalition. But as things turned out, we are looking for a candidate to represent MDP," Nasheed said.
"The way I see it, I don't even hear my rivals talking about a policy. For example, even if i mistakenly tell them I am coming, they start saying almost done, almost done."
Nasheed and President Solih have been making various promises during the primary campaign. Here are some of the things that Nasheed promised to do in his government:
Restructuring student loans

Building a resort in Fuvahmulah


Maintaining the price of fish at MVR 25 per kg


Relinquishing government stake in Addu Gan International Airport


5,000 houses given to Male residents in Hulhumale and financial assistance to those who do not have funds to build houses