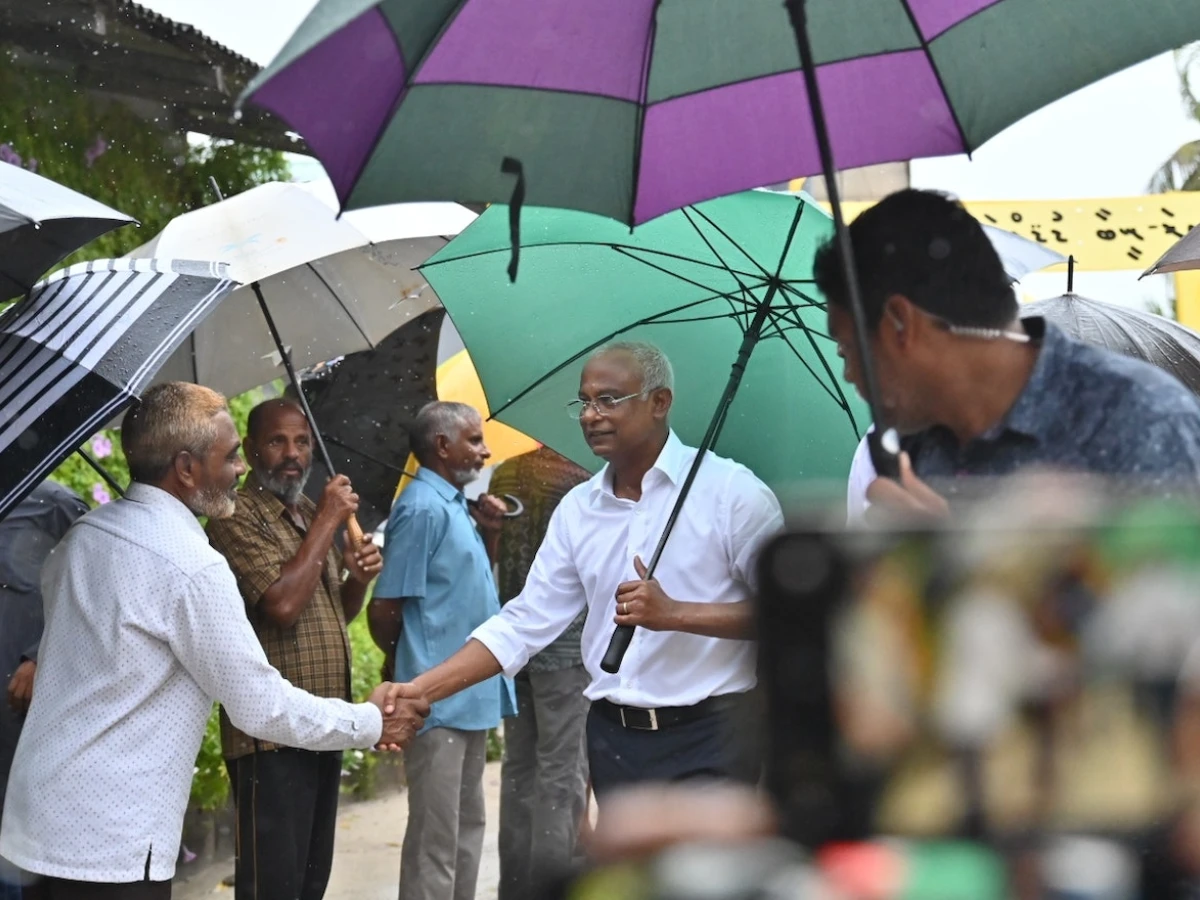 President Ibrahim Mohamed Solih campaigning for the primary in Maalhos. Photo/Campaign team
Security beefed up for pres visits over turmoil: Govt
Some people misused their freedom to do things that did not even meet ethical standards, Miuvaan said.
By Mariyam Umna Ismail
Security has been beefed up in the atolls during President Ibrahim Mohamed Solih's recent visit to the islands for the campaign for the ruling MDP's primary elections as the opposition is trying to disrupt the peace in the islands and endanger his security, the government said on Thursday.
Pictures of soldiers in combat uniforms during the president's visit the islands were circulated, and some even took to social media to criticise the president. At a press conference held at the President's Office on Thursday, Spokesperson at the President's Office, Miuvan Mohamed responded to various reports about the deployment of security forces in the islands.
"President Solih has given everyone the freedom of expression after coming to power," Miuvaan said. Thus, he pointed out:
This time, when the president went to different islands for the primaries campaign, protests were held in some islands by the opposition

Some people misused their freedom to do things that did not even meet ethical standards

"We have also seen where the opposition shouted loudly during the president's campaign meeting, where they sang and played music loudly while the Quran was being read to start the ceremonies, and if the voices we heard were shown on TV in children's presence, which was happening with children around, even action should be taken on it," Miuvan said.
"Despite having that freedom, the opposition has tried to take advantage of it and misuse the opportunity to carry out peaceful political activities to create unrest out of that opportunity."
Miuvan said the security services would not allow anything that could disturb the stability of the island and endanger the president's security. Even if there is freedom of expression, it has to be done in a way that, he said, does not interfere with the political activities of the parties.
"... The freedom of speech and expression of the opposition should not overcome the political activities organised by the government or the ruling parties in power," Miuvan said.
While President Solih has been travelling to different islands for the primary campaign, opposition members from some islands staged demonstrations in the islands ahead of the president's visit. They were protesting against the verdict on their opposition leader and former president Abdulla Yameen. They also demanded the government's resignation.