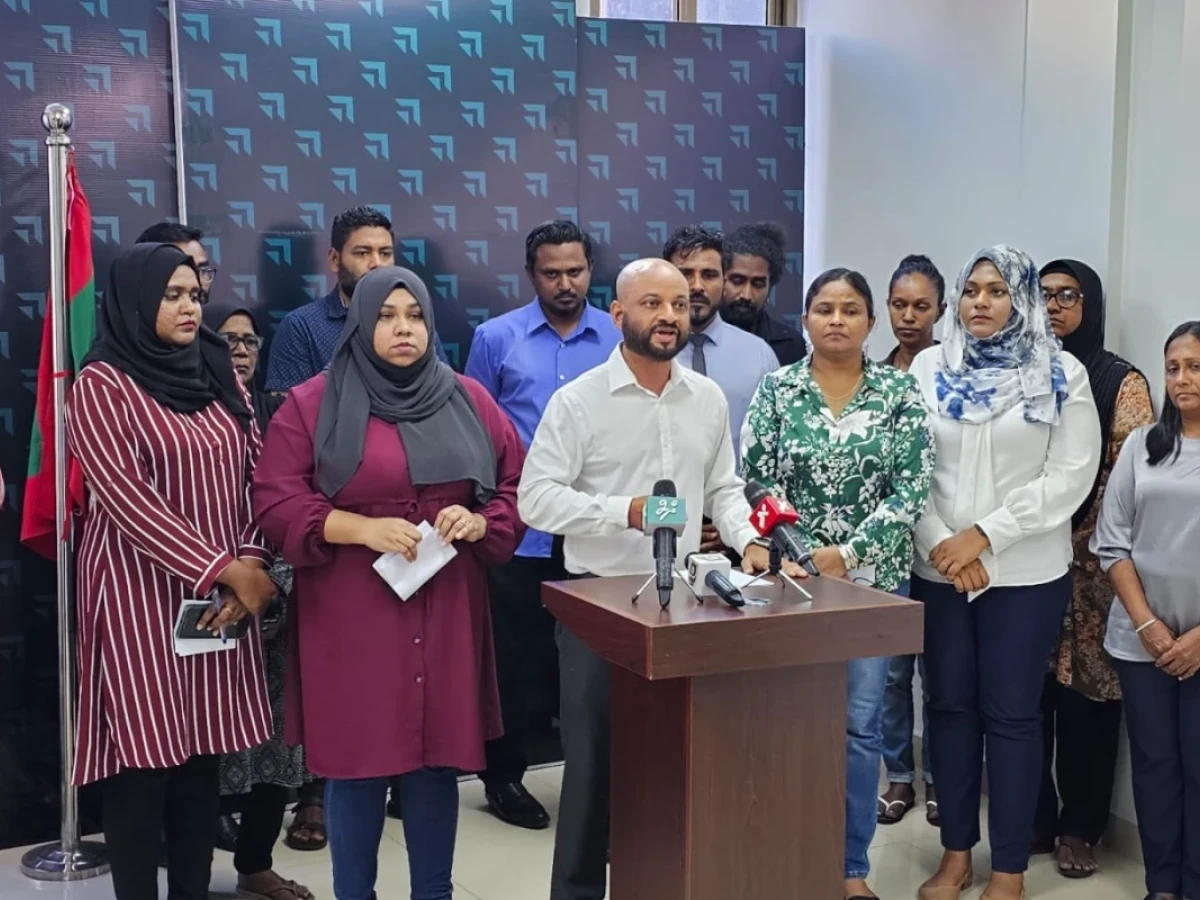 May 24, 2023: MRM president Faris Maumoon speaks at a press conference.
Govt denies interference in MRM dissolution
When MRM was dissolved, the party was in the process of finalising a party they would form an alliance with, in the upcoming elections.
Government on Thursday denied allegations that it had pushed the Elections Commission (EC) to dissolve Maldives Reform Movement (MRM), which was formed by former President Maumoon Abdul Gayoom.
Presidential spokesperson Miuvan Mohamed made the remarks in response to a question from Atoll Times at a press conference held at the President's Office to brief reporters about government works.
"There was no interference from the government. The Elections Commission has their independence ensured," Miuvan said about the dissolution of MRM, which is also part of the ruling coalition.
Party president and Maumoon's son Faris Maumoon said on Wednesday that the Elections Commission had wrongly dissolved the MRM on the grounds that it did not meet the required 3,000 members.
Addressing a press conference after the dissolution of the party, Faris alleged that the EC's decision to dissolve MRM was taken due to the influence of certain sections of people. He said he would go to the courts if he had to in the matter.
"Our membership will be around 5,300, forms for which have already been submitted. However, at different stages, members are being expelled from our party for various reasons," Faris said, pointing out that it was happening without their knowledge.
"There are dozens of politicians working in the Maldives who don't want MRM to remain. Sadly, this influence enters various institutions through a very open door."
Faris described it as a "clear and politically motivated conspiracy".
According to EC, MRM had to be scrapped because the party could not reach 3,000 members and many of the forms submitted within the three-month period given to meet the number were not valid, said Vice President Ismail Habeeb.
"When we looked at the applications submitted by them, 140 were submitted. However, in the first of these checks, only 66 forms were found to be valid", he said at a meeting held by the EC on Wednesday to grant the permission to form The Democrats, a party headed by speaker Mohamed Nasheed.
When the MRM was dissolved, the party was in the process of finalising a party they would form an alliance with in the upcoming elections. Although MRM is a part of the ruling coalition led by MDP, it has been meeting with the Jumhoory Party, which is also a member of the ruling coalition, but has announced it will be contesting the presidential elections this year independently.