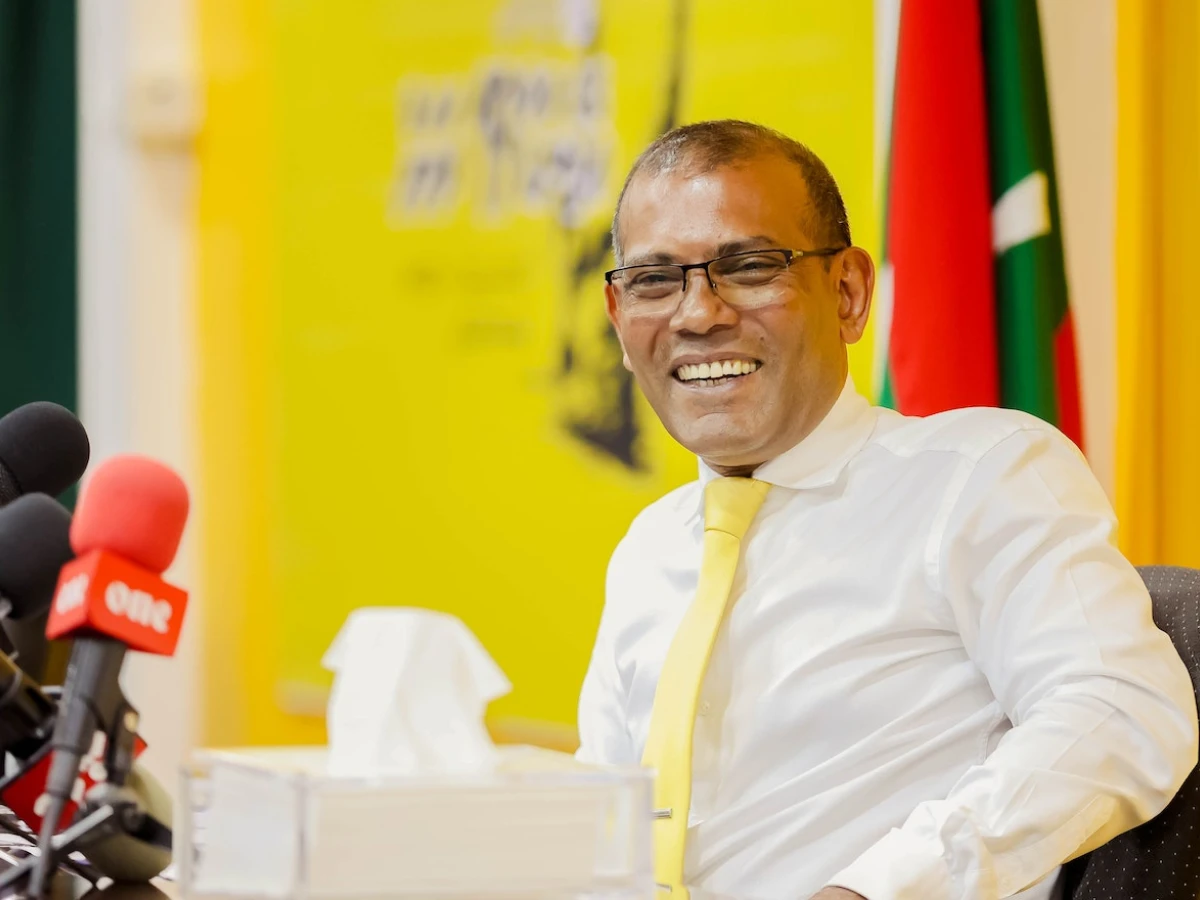 Nasheed speaking at a press conference held by MDP. Photo/Dhauru
Nasheed silent on primary bid, but says won't lose elections
President Ibrahim Mohamed Solih has expressed his desire for a second term in office.
By Mohamed Muzayyin Nazim
Speaker Mohamed Nasheed on Thursday refused to give a direct answer to questions posed to him about contesting in the primary elections to decide ruling MDP's candidate for the upcoming presidential elections. Nasheed, however, said that the political scenario in the country has not changed to the extent that he would lose the elections and that he always has full hope of winning the contesting elections.
The 'Ask Speaker' programme was held at the parliament on Thursday afternoon, as is custom after the conclusion of each term of parliament.
While there were media reports that he was planning to contest in the primary, he did not give a direct answer to questions raised at the programme about contesting in the primary. Nasheed said the primary should be discussed only after a systemic vote.
"Whatever I face, I face to win. And in the hope of winning. In an election I have contested so far, I have not lost yet. Not that I will never lose," Nasheed said in response to a question on whether what happened to former president Maumoon Abdul Gayoom could happen to Nasheed.
"Where I see myself and the political landscape of the country, I don't see where I have lost much."
Without giving a direct answer to contesting the primaries, he said, "I think everyone will contest in the elections with the hope that they will win."
In the program presented by Parliament's Communications Director Hassan Ziau, Nasheed did not say whether he would or will not contest the primary in any question asked about the primary. He said there were two things that needed to be fulfilled before the primaries. They are:
Doing so as decreed in MDP's manifesto to hold a systemic vote before coming to power

As this is a financially difficult time, addressing the economic crisis

"It's not an easy time. So, before I head for the presidential election, we all need to take into account these two points," he said in response to questions targeted by Ziau on the primaries.
"There are certain things in this manifesto that are to be done at a particular time, in a particular way. Unless things are done this way, I don't see the point in talking about who is competing who in the primary elections"
On the primary, Nasheed added:
It is better to hold primaries next year

Primaries can be held at any time

Nasheed did not directly announce that he would run for the primary, but hinted on several occasions in the past that he would run in the primary. At the same time, President Ibrahim Mohamed Solih has expressed his desire for a second term in office.