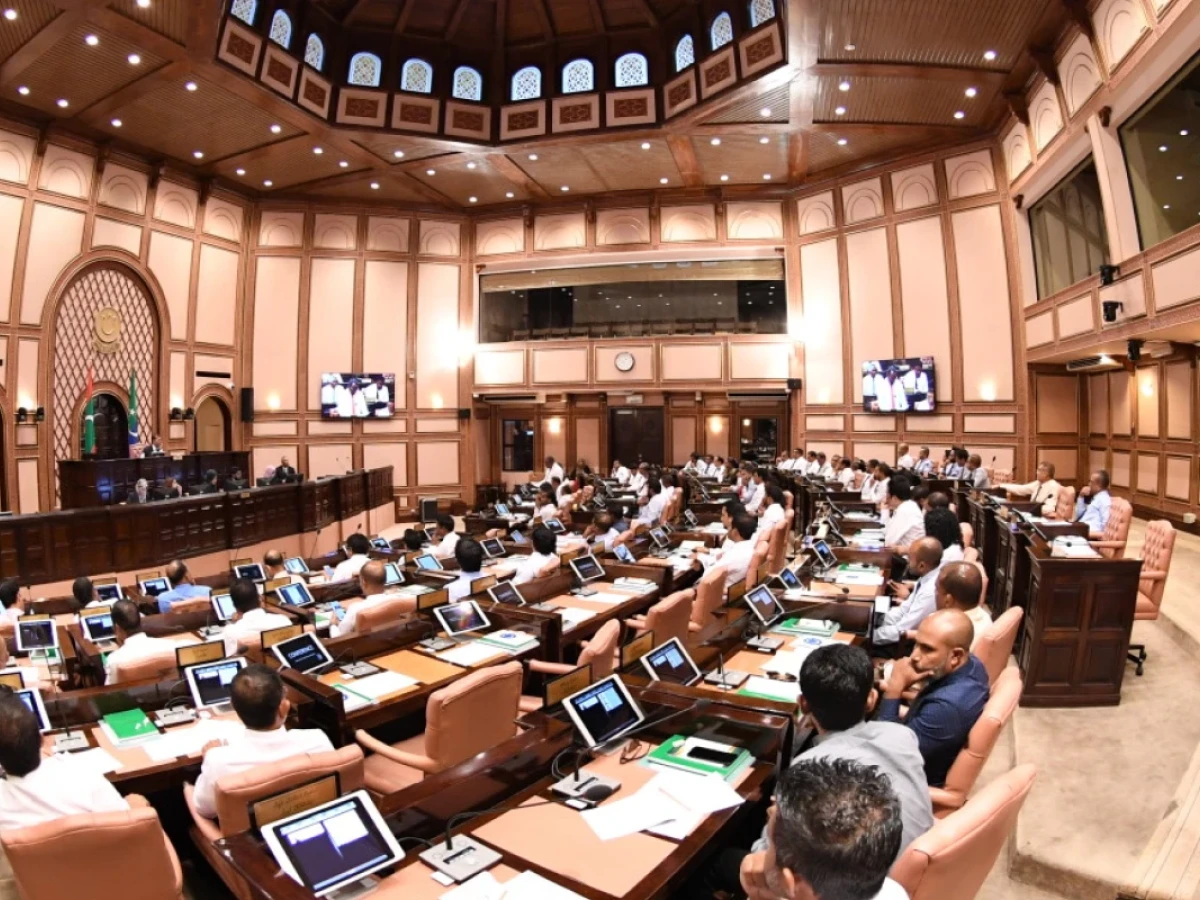 People's Majlis, a sitting. Photo/Majlis
Parliament rejects Nasheed-backed motions, admits pro-govt resolutions
While the two resolutions were rejected from the parliament, the parliament also referred a number of issues to committees for scrutiny.
By Mariyam Umna Ismail
Parliament on Tuesday rejected two of the recent motion submitted by Speaker Mohamed Nasheed's faction, but accepted a motion raised by pro-government lawmakers.
The motions moved by two pro-Nasheed lawmakers were rejected without being sent to the committee:
A resolution moved by North Galolhu MP Eva Abdulla urging the government to step up its efforts to restructure the state's debt and adopt a sustainable policy for debt servicing received the backing of 23 MPs, while 32 voted against it.
South Hithadhoo MP Ahmed Rasheed moved a motion calling for the lease of Addu's airport and port to a private company. Thirty-four MPs voted against the motion, while 18 voted in favour of admitting it.
Members of the Nasheed faction have been repeatedly presenting resolutions to the parliament, alleging that the government has not been able to implement its policies and promises since the party's primary defeat in January.
According to Ahmed Rasheed's resolution, tourism in the Addu area can be developed as a hub, including other atolls in the zone, by developing Addu Airport and Addu Regional Seaport, and enhancing airport, seaport and tourism connectivity. Here are the benefits of privatising it:
The development that the people of Addu are seeking can be brought to the region
The government can bring development to the region
Addu Airport and Addu Regional Seaport will increase the flow of income to the government
Companies will be restructured and efficient with the participation of competent and experienced individuals
Eva's resolution called on the government to do what the parliamentary committee approved in October 2020 after studying the extent to which the state was indebted between 2013 and 2018, the manner in which it was managed, and how it would be used to determine the extent to which the state's revenue was allowed to repay within three years.
The government and MMA should start working together to restructure debt other than loans taken from donor countries and those from international organisations; and to form a special committee to restructure debt, to carry out the task
Seek advice from relevant legal and financial experts in and out of the country
Seek details of projects carried out through loans taken by the state by issuing guarantees
Reduce the cost of state-owned companies, park loss-making companies, dissolve companies, and improve the governance of other companies

Prepare a report on how to achieve results and share it with Parliament, highlighting the difficulties in implementing the debt strategy
While the two resolutions were rejected from the parliament, the parliament also referred a number of issues to committees for scrutiny. All these issues have been raised by the pro-government MPs. On Tuesday, the parliament decided to accept:
Workplace Safety and Health Care Bill - 55 votes
Resolution to change the way MPs are expelled from the Majlis - 46 votes
The parliament also approved the Maldives joining two international organisations:
International Mobile Satellite Organisation (IMSO) - 49 votes
International Association of Marine Aids to Navigation and Lighthouse Authority (IALA) – 53 votes