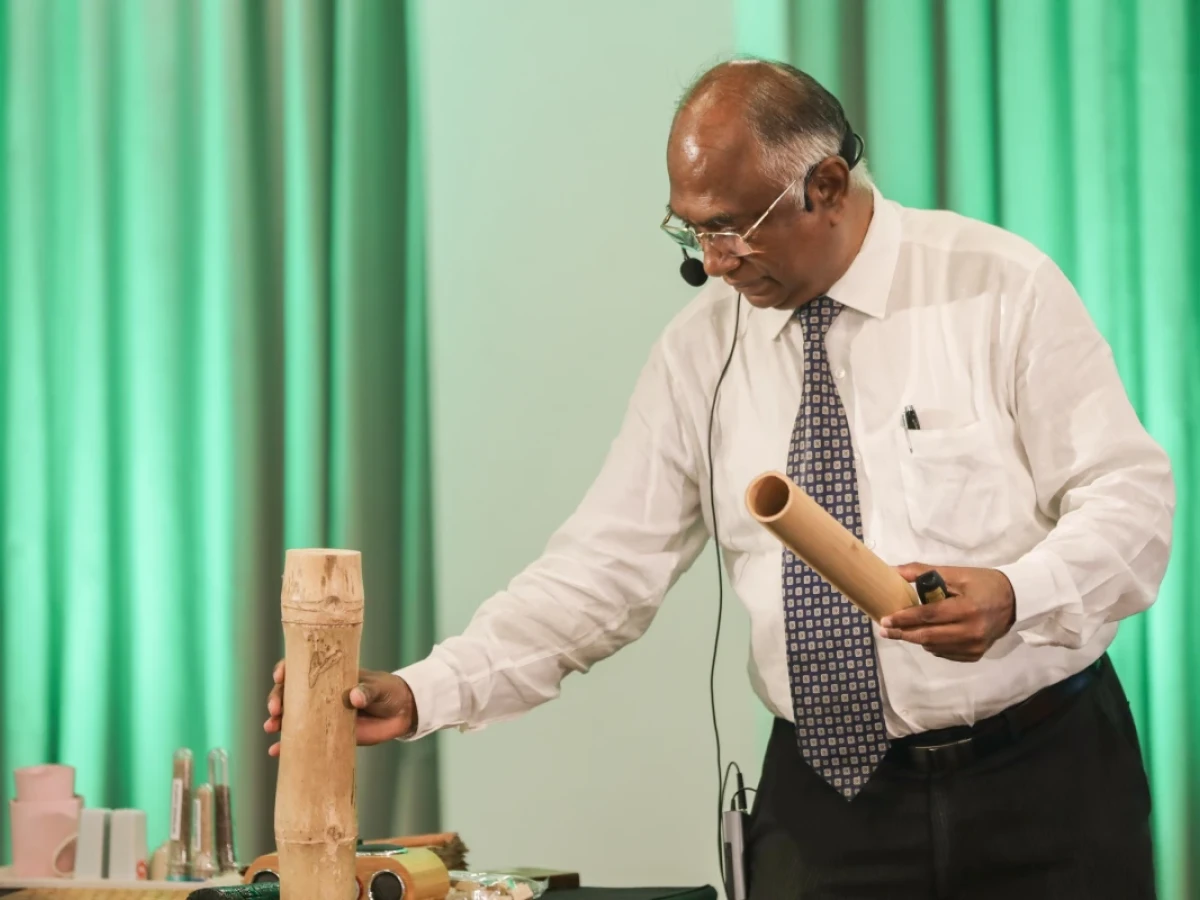 Dr Bharati Nambi delivers the keynote at Wednesday's seminar. (Atoll Times Photo/Hussein Sunein)
Awareness sessions begin in Atmosphere Foundation's bamboo project
Under the project, Atmosphere Foundation is donating 500 bamboo seedlings to the government.
Atmosphere Foundation on Wednesday launched the next phase of their project in partnership with the government to plant bamboo trees in Maldives, hosting an awareness session on the environmental benefits of bamboo trees.
In March, environment ministry launched the project in partnership with Atmosphere Foundation to plant bamboo trees in Maldives, in a bid to support the goal of making the country carbon neutral.
Under the project, Atmosphere Foundation is donating 500 bamboo seedlings to the government, with 250 to the environment ministry and another 250 to the agriculture ministry. The ministries will distribute them to the outer atolls and industrial islands.
The foundation is also working with Indian agricultural scientist Dr Bharati Nambi to ensure that bamboo planting is done in the most productive manner.
In a dedicated effort to advocate community-led initiatives for environmental consciousness and education, a notable seminar - 'Working Towards a Carbon-Neutral Maldives with Bamboo' was convened under the project on Wednesday. The seminar saw a compelling keynote speech delivered by Barathi, the mastermind behind Growmore Biotech Ltd, and a pioneer in the field of bamboo research, boasting a solid two-decade tenure.
The focus of Barathi's keynote was to present practical and efficacious strategies for the Maldives to triumphantly reach its ambitious goal of becoming a carbon-neutral nation by the end of this decade.
Barathi underscored the inherent multi-functionality and the wealth of advantages that bamboo plants offer, not just to the Maldives but to the world at large. Key among these benefits is the significant carbon sequestration and a whopping 35 percent more oxygen release than other plant species, directly contributing to improving soil health, nurturing a more robust environment, and countering the global warming crisis.
In his keynote, Barathi also brought to the fore the incredible versatility of bamboo, extending beyond its environmental impact. He detailed the broad spectrum of its uses, from construction and textiles to crafts, thereby underscoring the potential of this "green gold" in enhancing sustainable living and industry practices.
Atmosphere Foundation is a non-profit, non-government organisation designed to enable a brighter future for the communities in Maldives. The foundation focuses on promoting and assisting existing charities and voluntary services, delivering civic engagement and community development, and through sponsoring and organising education and training.