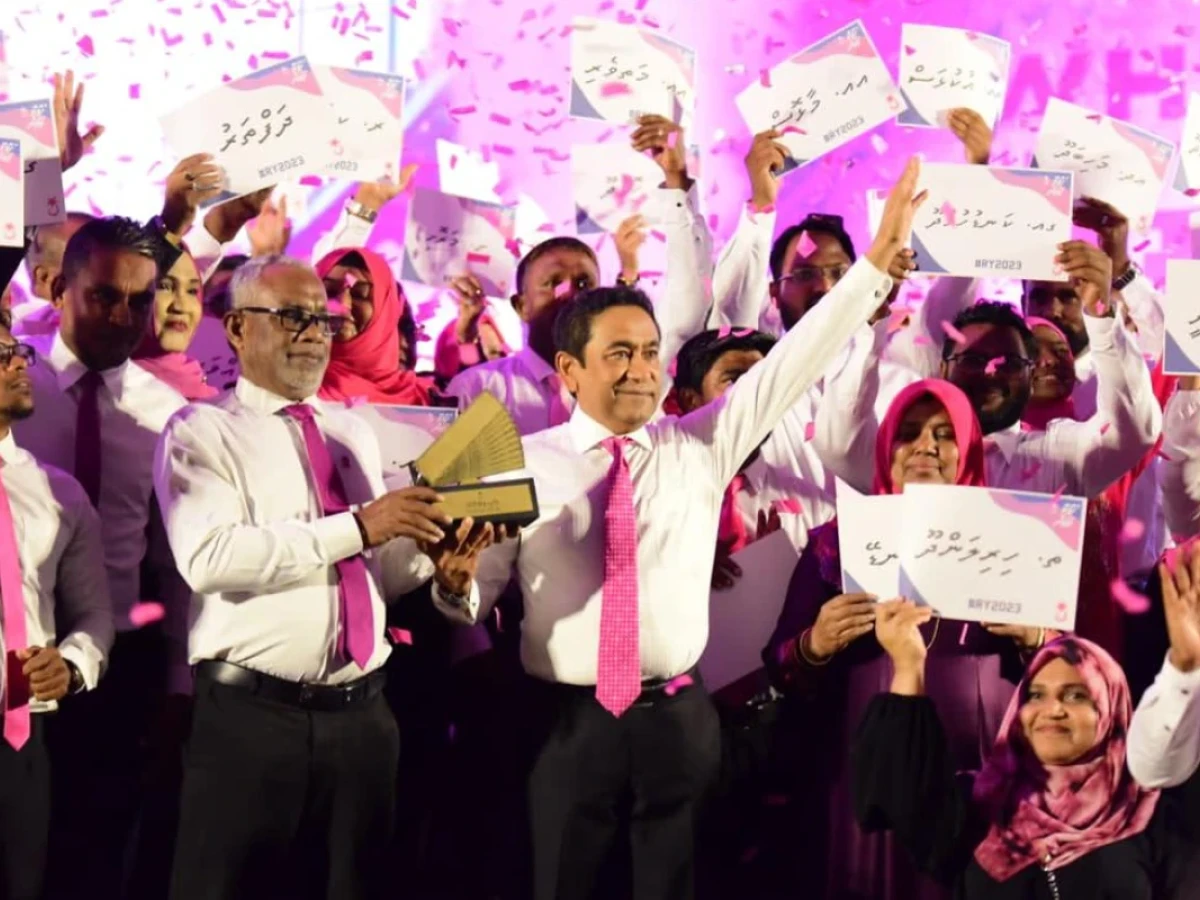 Former President Abdulla Yameen Abdul Gayoom is all set to launch his presidential campaign on August 19, 2022, at carnival area under the name 'Hawale Watan'. Photo/PPM
Yameen reveals nationalistic campaign slogan
The slogan 'Dhivehinge Raajje' indicates that Maldives belongs to Maldivians.
By Mohamed Muzayyin Nazim
Opposition PPM-PNC presidential candidate, former President Abdulla Yameen's campaign team revealed his campaign slogan 'Dhivehinge Raajje', a phrase indicating that Maldives belongs to Maldivians.
On Saturday, the PPM-PNC kicked off the campaign with door-to-door visits in Male. With the release of their official slogan, the campaign will be divided into five regions.
Yameen's campaign manager Mohammed Ameen told Atoll Times on Thursday that the country will be divided into five zones and activities will be set in motion across the country over the next five days.
"We define sovereignty as the security, independence and longevity of the nation remaining in the hands of Maldivians. Our slogan summarises all of these values," he said.
"In short, President Yameen fights to give the people the kind of nation they want, and need".
Ameen said the slogan was based on the feelings and concerns of the public.
"Although some people did not say it openly, when we analysed the data, we noticed that one of the concerns of the people is the loss of independence and sovereignty.
Yameen's vision for 2023 is that the nation must come first, he said, adding that under his government the people will have their independence and security.
"We can't do anything else without the people of the nation controlling its affairs. Those are the first priorities," he said.
Ameen added that the team's campaign strategy is to spread the campaign at the administrative constituency level. Therefore, the campaign will be divided into five zones, he said.
"The campaign will start in Haa Alif, Haa Dhaalu, and Shaviyani provinces this evening. Within five days we will activate the whole country," he said.
Yameen's 11-year jail sentence has prevented him from contesting the presidential election. The verdict has now been appealed in the High Court, and lawyers and the PPM leadership are saying he will be free and can contest the election.