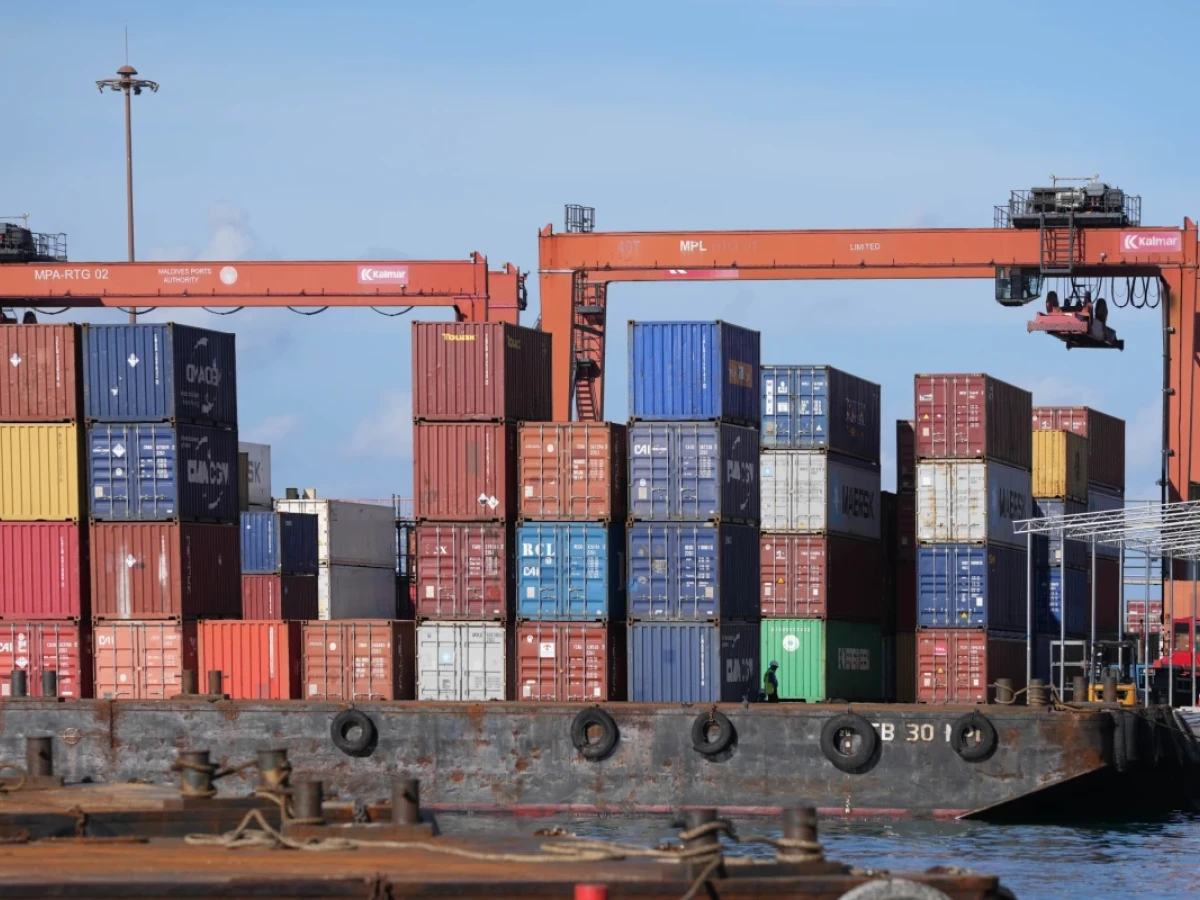 Male Business Harbour. Dhauru Photo
MPL says ready for expected record imports for Ramadan
With measures being taken to streamline the new equipment and operations, Shahid said MPL operations will be more smooth this year than last year.
By Ahmed Mizyal
This year's fasting month of Ramadan is expected to be a month of record imports of goods in one month and based on the preparations and experience of the past few years, MPL's operations will be much faster and more efficient, its CEO Shahid Ali said on Sunday.
The company shared with the media how it plans to conduct MPL operations during the fasting month.
9.15 pm – 1.30 am (if there are goods to be cleared, work will continue till morning)
Some of the other operations of MPL have been planned round-the-clock.
Steps taken to speed up operations during Ramadan
Shahid said last year's Ramadan was the highest single-month import of goods in the history so far.
MPL is doing a lot to prepare for the same as the amount of goods imported during this year's fasting season is expected to go up, Shahid said. Here are some of the things he pointed out:
Four new reach stackers to deliver containers; a solution to the problem of delay in operations due to the destruction of old reach stackers; with new, container operations can continue without halts
The space for perishable goods has been increased; that is, the warehouse where the goods are left out and stored temporarily
Two more storage facilities have been temporarily set up in Male and Hulhumale to store public goods or general cargo; these sheds will allow the ship to depart after unloading, as soon as possible
Additional staff, especially stevedors (those who load goods from boats) have been hired for the fasting month
From the old fleet, especially forklifts and cranes, were put into servicing due to problems

Two completely new battery forklifts have been brought in to handle fragile goods
Shahid said that when the boats come with loads of goods (especially easily perishable goods) during last year's fast, which was imported in record quantities, it was cleared on the same day sometimes. He, however, pointed out that it was difficult to clear normal cargo that year.
"This time, our target is to carry out the process of unloading and clearing perishable goods and general cargo. So, I think it will be easier for importers than last year," he said.
"The perishable goods are to be dispersed the same day, especially the food items, for example, if a boat arrives in the morning, the target is to clear the cargo on that boat on the same day."
With measures being taken to streamline the new equipment and operations, Shahid said MPL operations will be more smooth this year than last year.
"(Based on last year's experience) and this time with more encouragement and commitment from the staff, I am saying that this year we will be able to carry out the operation in the same way as last year and even better," he said.
"If there is a delay in non-delivery of goods and the release of goods into the market, then there are problems like price rises. That's why we are targeting to bring all the incoming goods to the market as soon as possible so that the port doesn't cause that kind of problem."