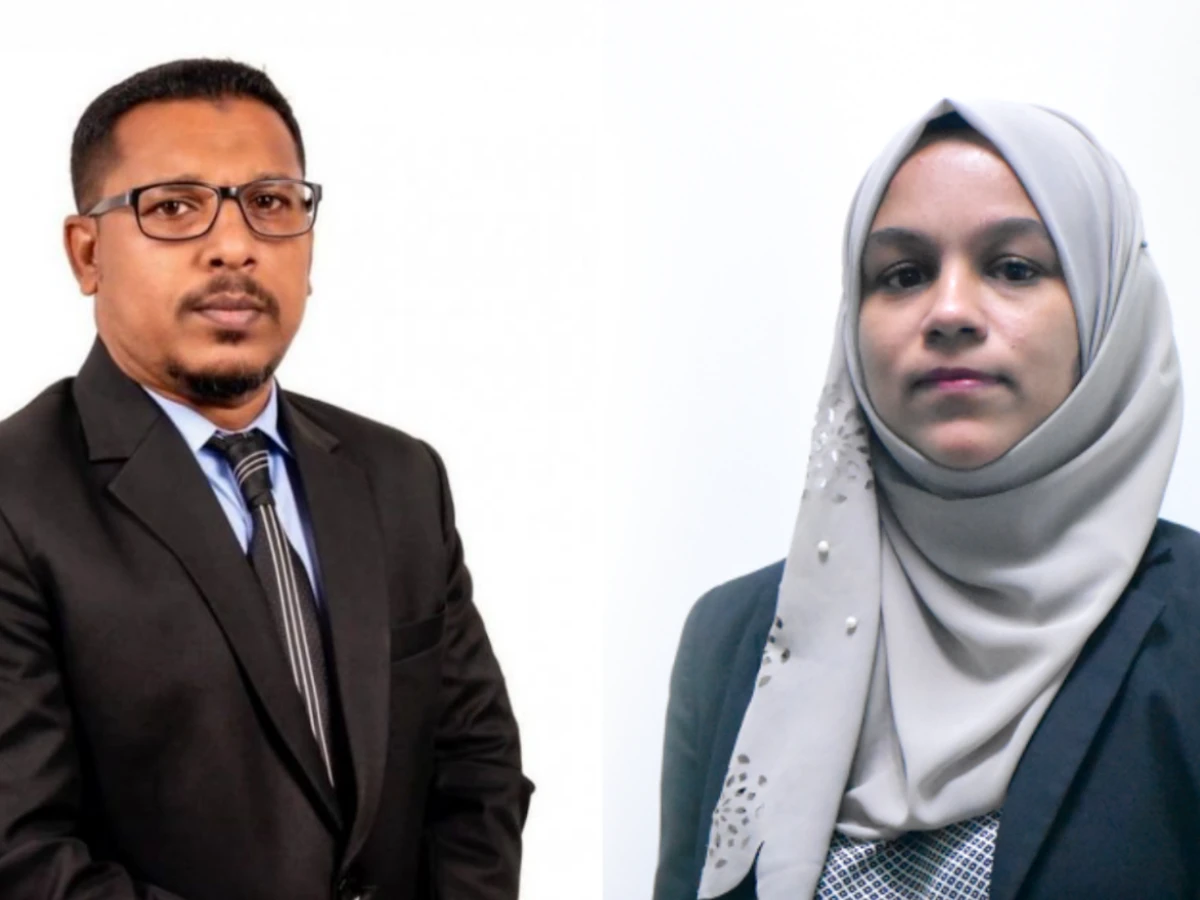 Hithadhoo Court Magistrate Rafeeuddin Ahmed (L) and Magistrate Ziyadha Thahir . Photo/JSC
2 more Hithadhoo court judges probed for criticising PG
In March, the JSC began investigating Rafeeuddin for disciplinary action in these cases.
By Aman Haleem
Judicial Service Commission (JSC) has launched an investigation into the case of Chief Magistrate Mohamed Hashim and Magistrate Ziyada Thahir following a statement issued by the S. Hithadhoo Magistrate Court over a High Court order overturning the lower court's order.
Rushan Ahmed Didi, Manndhoobuge/S. Hithadhoo was charged with aiding and abetting the smuggling of drugs in October 2020 in connection with the seizure of 98 kg of drugs during a police raid in Addu. Here are some of the highlights:
After Rushan's arrest, Hithadhoo Magistrate Court extended his remand

He was later released on the grounds that there was no evidence


The decision was challenged in the High Court and he was remanded to judicial custody until verdict on 20 October 2020


On 20 February 2021, Hithadhoo Court Magistrate Rafeeuddin Ahmed ordered the release of Rushan for 90 days for medical treatment.

Prosecutor General (PG) Hussain Shameem criticised Rafeeuddin's order, saying it was not the kind of thing that lower courts do. In response, the Hithadhoo court issued a press release condemning the PG's remarks and accusing him of inciting judges to intimidate them.
In March, the JSC began investigating Rafeeuddin for disciplinary action in these cases. The investigation of two other judges of Hithadhoo Court began eight months after the case against Rafeeuddin was filed.
According to a statement released by JSC on Monday, they said that they are looking into the issue of breach of discipline of the judges while issuing their statements.
The two judges' case came to light during the investigation of Rafeeuddin's case

The decision to investigate the matter was taken at a meeting held on 27 November

Earlier, the Hithadhoo Magistrate Court had acquitted Rushaan on the ground that there was no evidence against him.
However, before that, the same court had granted him bail on the ground that there was evidence against him. The high court, while appealing against his bail order, also noted this. The court decided to keep him under house arrest on the ground that he could pose a threat to the safety and security of the community.
Seven people have been charged with attempting to smuggle the seized 98 kg of drugs into the Maldives. According to the police, the items were allegedly smuggled into the Maldives in connivance with a Pakistani drug network led by Abdullah Ibrahim, who the police claim to be a drug peddler.
The high court had also set aside the bail order. The court, in its verdict, noted that medical treatment can only be released in "pre-appeal" and "urgent" circumstances.