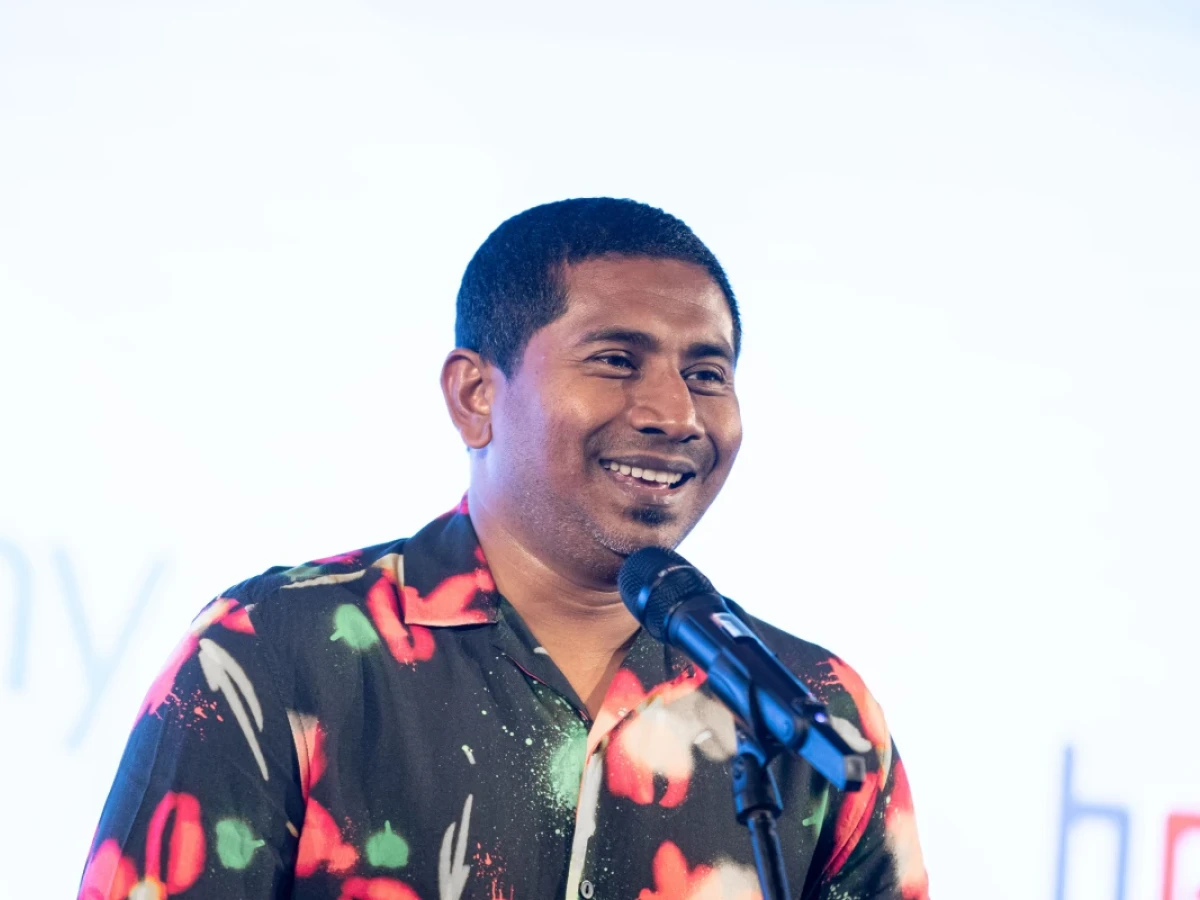 Mahloof speaking at a function. Dhauru Photo/Abdullah Iyaan
PG to withdraw graft charges against youth minister
Mahloof was suspended after the charges were filed, but citing the delay in deciding the case, the government revoked Mahloof's suspension four months later.
By Fathmath Ahmed Shareef
Prosecutor General's Office (PG) has decided to withdraw the case against youth minister Ahmed Mahloof for allegedly taking money in the MMPRC scandal, a year after the charges against him had pended in the courts.
Mahloof was charged with bribery under the Prevention of Corruption act and the case was filed in court in November 2021.
The trial court had initially dismissed the plea on the ground that the evidence presented by the prosecution did not have sufficient weight to proceed with it
On March 6 last year, the petitioner had moved the High Court challenging the trial court's dismissal of the case
On March 21 last year, the High Court had held that the lower court had wrongly held that it was not a charge to be treated on civil grounds
Setting aside the trial court's decision that the case could not be taken up, the high court directed the criminal court to re-examine the case
Although the trial has begun following the order to re-investigate Mahloof's case, the proceedings have not progressed. Though only a few hearings were scheduled, they were later cancelled.
An official from the PG office confirmed to Atoll Times on Saturday that it has now been decided to withdraw the case. The official, however, refused to divulge further details.
The decision was taken after the PG found it difficult to prove that the money Mahloof had allegedly taken as bribe in the MMPRC case was fraudulent.
Charges against Mahloof
On June 9, 2021, the Anti-Corruption Commission (ACC) had sent a complaint to the PG office seeking registration of an FIR against Mahloof in connection with the alleged bribe money. Mahloof's charge sheet was filed in the court five months later.
The state's charge sheet states:
Mahloof, who was an MP from Galolhu South constituency, took bribe money on August 27, 2014 as a quid pro quo for voting in favour of the Special Economic Zone Bill
The then Tourism Minister gave USD 33,000 to Mahloof through a cheque of an account opened in the name of SOF Private Limited with the Bank of Maldives (BML)
The money was deposited in the account opened in the name of Mahloof on September 01, 2014
After the ACC forwarded the case to the PG to file a charge sheet in the case, Mahloof was removed from the minister's post in June 2021 until further notice from the office. However, citing the delay in deciding the case, the government revoked Mahloof's suspension four months later.