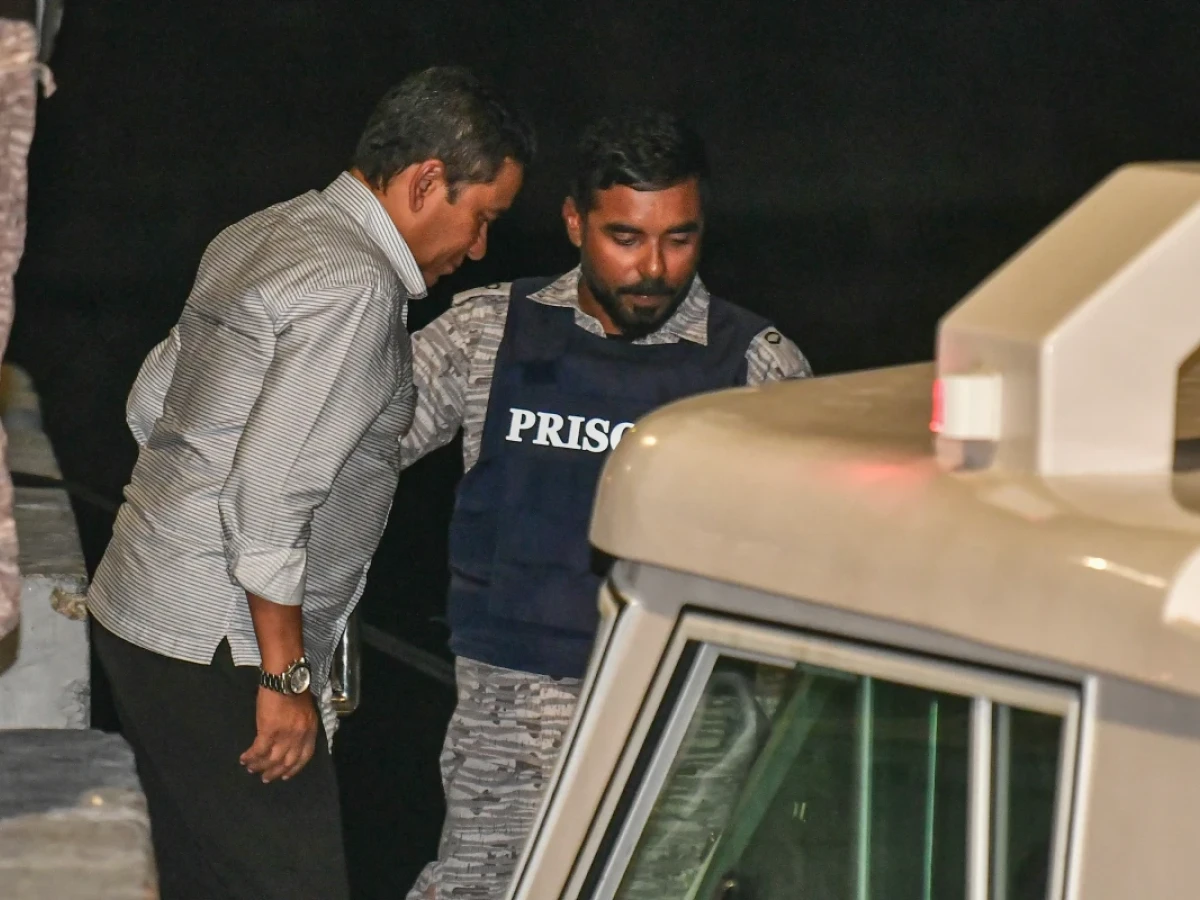 Former President Yameen is being taken to Maafushi on December 25, 2022. Dhauru Photo/Abdulla Riza
State ordered to facilitate easy access for Yameen to meet attorneys
Judge Ali Nadeem on Thursday ordered the state to ensure that Yameen has sufficient opportunities to meet his lawyers as he wished.
By Fathmath Ahmed Shareef
Former President Abdulla Yameen Abdul Gayyoom on Thursday expressed concern at the Criminal Court that he is not being given enough time to meet lawyers to prepare his defence over the charges of money laundering and bribery related to the R. Fuggiri lease deal. With this, the court asked the state to make the option available.
Four have been charged in connection with the alleged irregularities in the lease deal for development as a tourist resort through MMPRC.
Yameen - Accepting bribes and money laundering

Ahmed Krik Riza - Facilitating bribery and money laundering


Sun Construction - Money laundering


Sun Investment - Money laundering

On Thursday, the Criminal Court held a hearing to deliver the inaugural statement to begin the trial of the charges against Yameen in the Fuggiri case. However, Yameen expressed concern in the court that he was not getting enough time to prepare fully for the case and was not being given enough time to meet the lawyers.
"My appeal is that I am an inmate and I am in custody. I have to be able to meet my lawyers. It's not easy," he said.
Yameen, who attended Thursday's hearing online while in Maafushi prison, said:
He gets the chance to meet lawyers once a week, for two hours

It is difficult to prepare for the hearing in those two hours and see what is at the appeal stage


He is known for meeting lawyers and closely monitoring court cases


During his meetings with lawyers, they have to explain to him in a manner in which the cases are handled to an extent he accepts


The two hours given to him by the corrections service to meet the lawyers is not enough

"I'm not going to fly somewhere. The honourable judge does not even have to decide the matter in a particular time frame. So, I want to get a chance to meet my legal team. It is a fundamental right," Yameen said.
"Even the prosecutor general can't deny this."
After listening to Yameen's concerns, Judge Ali Nadeem, who is hearing the case, asked the state whether there were only two hours to meet lawyers.
In their reply, the state said that corrections will have to clarify the current practice of lawyer meetings and that they will ask to allow him to meet lawyers as part of the regulations.
Judge Nadeem said it would be difficult for detainees to meet their lawyers freely, just as is available to a person who is being tried without custody. It is the responsibility of the state to ensure that the detainee gets the same opportunity as a normal person, he said.
Nadeem on Thursday ordered the state to ensure that Yameen has sufficient opportunities to meet his lawyers as he wished.