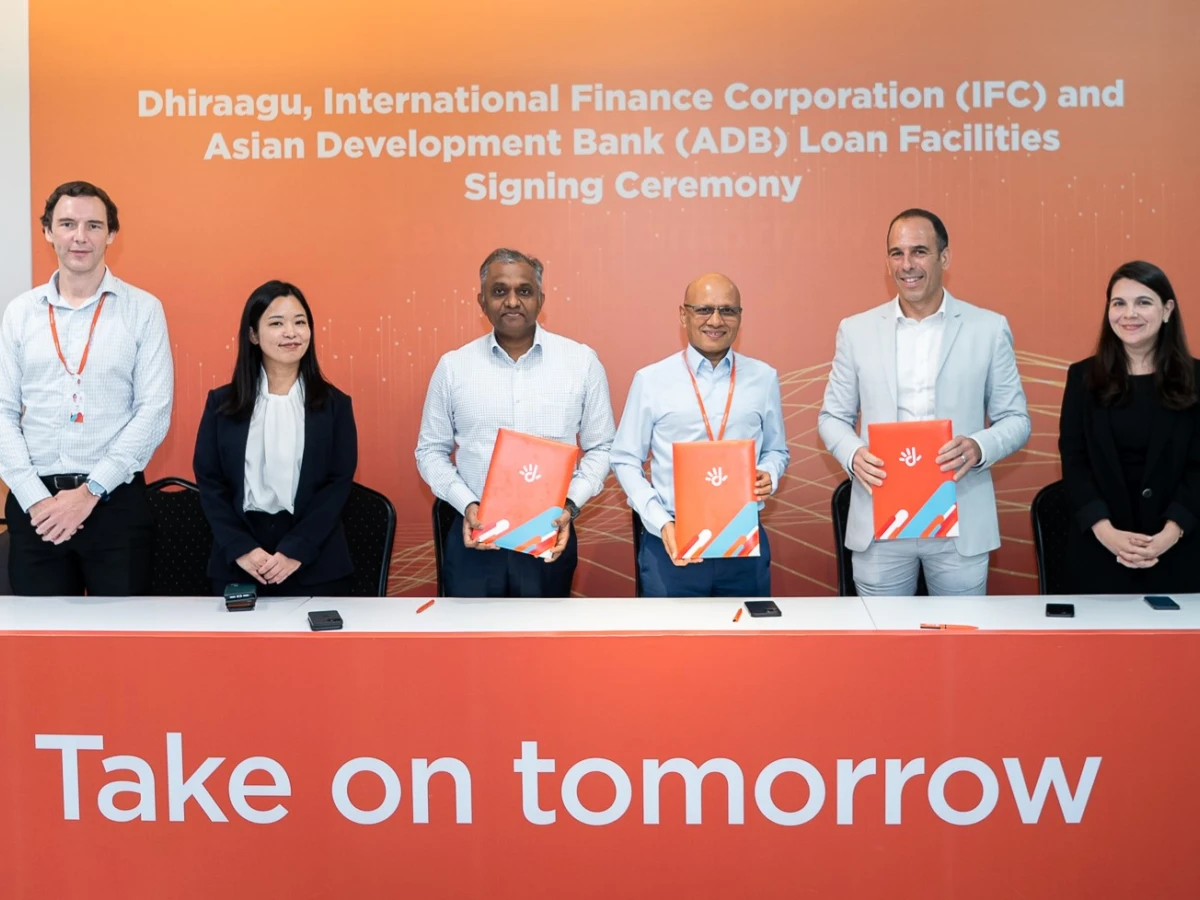 Signing of agreement between IFC and Dhiraagu. (Photo/IFC)
Dhiraagu secures $19.1m IFC funding for intl submarine cable project
IFC's latest round of funding of $19.1 million takes its total investment in Dhiraagu to $35 million since June 2022.
A new investment will help connect the Maldives to the internet global super high-way via the state-of-the-art South-East Asia-Middle East-West Europe (SMW6) submarine cable system, with the International Finance Corporation (IFC) supporting Dhiraagu, the largest telecommunications and digital service provider in the country.
This will help strengthen international connectivity, improving efficiency of services and boosting digital services across the country.
IFC's latest round of funding of $19.1 million takes its total investment in Dhiraagu to $35 million since June 2022 and marks an important step toward making the Maldives a global digital hub. It will enable the company to be part of the SMW6 submarine cable consortium and roll out the country's first directly connected and owned international submarine cable system.
"This investment is a major development to improve Maldives' global connectivity, adding great value to our customers, and shareholders. The SMW6 cable system will provide us direct connectivity to multiple key internet exchange points across the world, that will reduce latency, improve quality, and reduce cost of Dhiraagu's internet services," said Ismail Rasheed, CEO & MD at Dhiraagu.
Despite a liberalised telecom market, with 87% coverage on fibre-to-the-home and to national households, and 125% mobile market penetration, the development of digital infrastructure in Maldives remains challenging given the country's highly scattered islands, many of which are sparsely populated.
Prices for mobile services in the Maldives, therefore especially for data, are more than in other South Asian countries due to higher costs of network rollout and international connectivity.
"As a country with dispersed geography – with 1,200 scattered small islands and only 187 of it being inhabited – affordable connectivity such as mobile and internet is critical for communications as well as delivery of services in Maldives," said Alejandro Alvarez de la Campa, IFC Country Manager for Sri Lanka and Maldives.
"But, when the ocean makes up 99 percent of the country, connectivity undoubtedly becomes a challenge. This investment will enable widespread, fast and reliable connectivity across the Maldives, help lower costs for consumers and improve the quality of life for many."
IFC's earlier investment of $15.9 million in Dhiraagu was aimed at supporting the company's working capital and capital investment program to enhance internet experience, including investments in 5G services and high-speed fibre broadband to more islands.
Apart from helping the company strengthen its environmental and social management system, land procurement process, and waste management and stakeholder engagement, IFC also recently partnered with Dhiraagu to support their efforts in strengthening women's corporate leadership.
As the sector rapidly grows and advances technologically, IFC continues to be one of the leading development financiers in digital infrastructure space across emerging markets, supporting all aspects of the ecosystem.